This fresh look at Downtown Bethesda serves as a twenty year checkup, to assess with the community what is great about Downtown Bethesda and what could be better. This is an opportunity for the community, property owners and business owners to refine the vision for a successful Downtown Bethesda. This also involves revisiting the current Plan's recommendations. Plans address land use and density; urban design and character, open space, mobility, as well as environmental quality. The work on the Plan will be organized around three themes: social sustainability, economic sustainability and environmental sustainability. We ask you all to join us in a shared commitment to: collaboration, creativity and integrity as we move forward together in our work. The forthcoming Bethesda Downtown Plan will update the 1994 Bethesda Central Business District Sector Plan and the 2006 Woodmont Triangle Amendment to that Sector Plan.
News and Events
New! View the Bethesda Downtown Plan Online Feedback Loop here.
(Note: This pdf includes all questions, answers, and comments in the Feedback Loop. It does not include questions and pages about site navigation we used to help viewers move around the Feedback Loop itself. Because of this, page and question numbering will not be consecutive.)
Questions or comments? Contact: BethesdaDowntownPlan@montgomeryplanning.org

Review the final report for the Bethesda Downtown Plan Retail Planning Strategy

(pdf, 13MB

prepared by Streetsense.
Presentation of the Staff Draft Plan to the Planning Board is scheduled for April 2015.
Watch a Video of the Plan Concepts Briefing !
The Plan Concepts Briefing was presented to the Planning Board on Thursday, December 11, 2014.
Thank you for participating in the Feeback Loop. Survey results will be posted here soon. The purpose of the Feedback Loop was to help staff get a general sense of the level of agreement in the community with the direction of the work on the plan concepts. We set up the Feedback Loop so you could focus on what matters most to you and answer a few questions or many, depending on your preferences. This was an informal way for us to hear from you as we move forward on the Staff Draft Plan.
Here are the slides from the presentation: Bethesda Downtown Plan Concepts:Planning Board Briefing 12.11.14.
Here is theFeedback Loop which also includes the slides.
Watch a Video of the Retail Study Briefing
The Plan Concepts are more detailed than the Draft Concept Framework Plan shown here

See the Latest 'Properties Under Discussion' - Ideas for the Future
The 'Properties Under Discussion' map is about ideas for the longer term future for consideration as we do this sector plan update. We encourage you all to use this map and to continue communicating via e-mail, phone conversations and face to face meet-ups to confer, collaborate and find common ground as we move forward with work on the Sector Plan. This map will be updated as we receive information from property owners.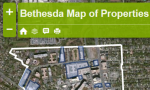 See What Projects are Already Moving Forward: Recent Approvals and Pending
This map, known as the "Development Finder" shows projects that are recently completed or are already moving forward through our Development Review process under the current 1994 Bethesda Central Business District Plan or the 2006 Woodmont Triangle Amendment to that plan. Note that there is a drop down menu where you can select what you would like to view, such as "Preliminary Plans", "Site Plans", or "Sketch Plans". They don't all show up on the map at the same time.
Video and Slides from the Property Owners' Presentations October 29
You can see the slides and video from the presentations on October 29, 2014 right here.
Slides Bethesda Downtown Plan Property Owners Forum
Help Engage The Missing Millennials !
Did you know that:
40 percent of the residents of Downtown Bethesda are Millennials (age 20-34)? >
20 percent are Gen-X'ers?
26 percent of the workers in Downtown Bethesda are under the age of 30?
30 percent consider themselves to be of a "non-white" race?

So, we thank you for being involved and hope that you will help us engage the missing. We welcome your:
Insights and ideas;
Offers to host an activity;
Willingness to encourage others to sign up for the E-Mail List or come to a future event.
Letters and More
Meetings
Letters: Your Thoughts and Concerns-This section is currently being updated 12/5/14.
Ideas and Images
How You Can Participate and Stay Connected...
Join our e-mail list
Follow us on Twitter: @bethesdaplanner #bethesdadowntownplan
Write to us at BethesdaDowntownPlan@montgomeryplanning.org
Meet with us in our offices in Silver Spring, or in Bethesda, or at your own group's meeting. Contact us to schedule.
Come to public meetings, workshops and other outreach events
Comment
Let us know what you think
Contacts
Leslye Howerton, Assoc. AIA, LEED-GA, Planner Coordinator, Area 1 301-495-4551
Questions and to arrange a meeting with us
Marc DeOcampo, AIA, LEED-AP, Master Planner-Supervisor 301-495-4556
Laura Shipman, Urban Design 301-495-4558
Matt Folden, Transportation 301-495-4538
Tina Schneider, Environment 301-495-2101
Rachel Newhouse, Coordinator, Parks Department 301-650-4388
Last updated: February 6, 2015