Bethesda Downtown Plan Briefing Book
Check out the newly released Briefing Book (pdf, 40MB).
What Do You Want to Bike to in Downtown Bethesda?
On Saturday, 130 people attended a workshop on the Bethesda Downtown Plan. These maps reveal how people answered four questions. They used sets of colored dots which they placed on each map to respond. Their answers will help to inform the recommendations of the plan.
What do you want to be able to Bike to in Downtown Bethesda?
Where should there be more Green Space in Downtown Bethesda?
Where is it Most Difficult to Cross the Street in Downtown Bethesda?
Where is the Heart of Downtown Bethesda?
Send us your responses via e-mail at BethesdaDowntownPlan@montgomeryplanning.org.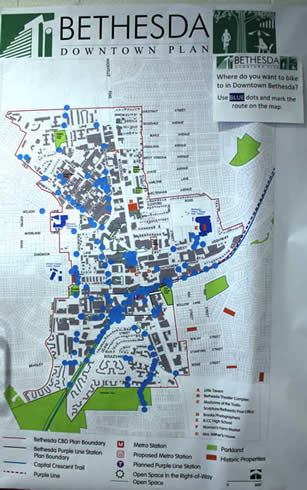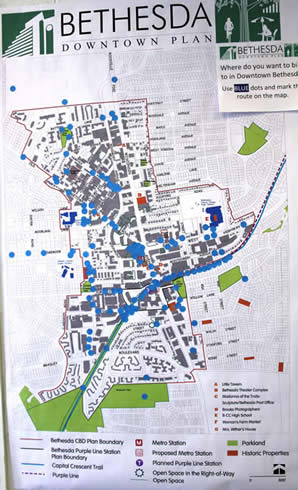 Where Should There Be More Green Space in Downtown Bethesda?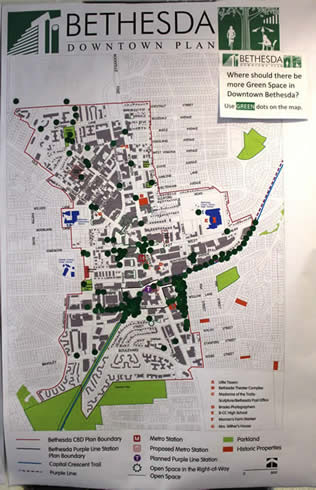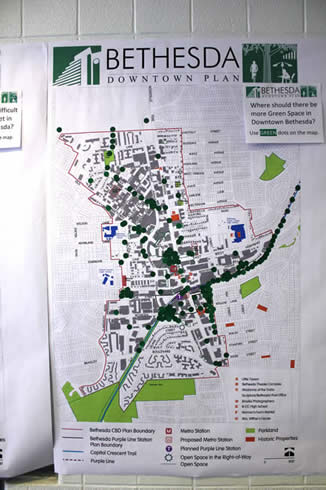 Where is It most Difficult to Cross the Street in Downtown Bethesda?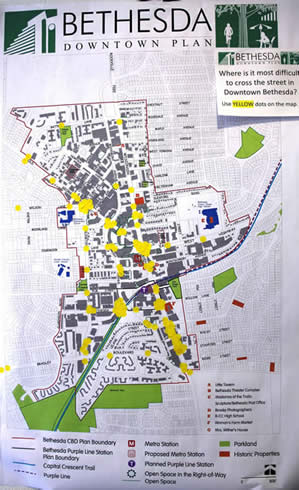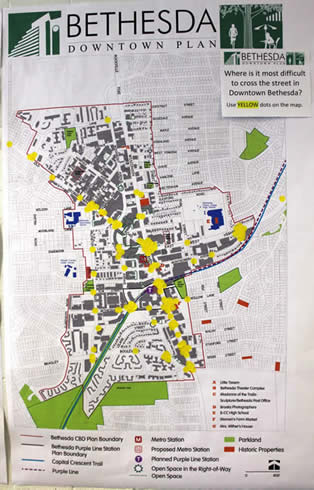 Where is the Heart of Downtown Bethesda?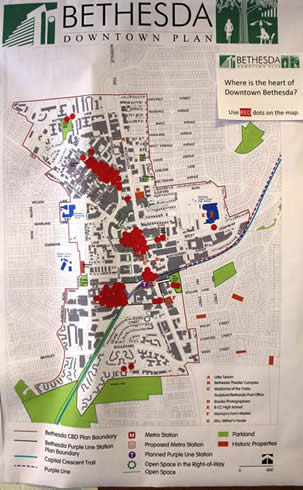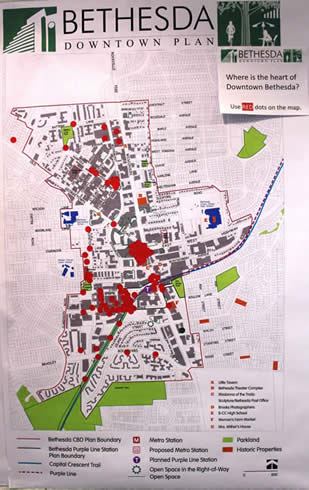 Send us your responses via e-mail at BethesdaDowntownPlan@montgomeryplanning.org.
Walk or Bike to the Workshop and Enter Here!
The main entrance to the High School, as you know, is on the westside of the building, the side nearest to the Metro Station. Head to that side of the building. Note the grand main entrance with wide stairway will be on your left. Don't go there. Walk to the far right and and enter by the triple doors. You can see them just beyond the blue topped recylling containers in the below photo.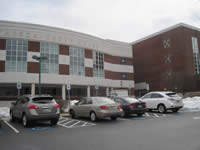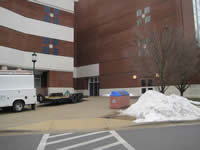 Here is the Program for Saturday's Workshop!
9:30 AM - Doors Open - Sign In & Coffee: Planning Activities including Newcomer Briefings
10:00 AM - Welcome - Gwen Wright Planning Director
10:20 AM - Create an Updated Planning & Design Concept for Downtown Bethesda - in Groups of 7-8
11:30 AM - Report Out from Each Group
12:40 PM - Closing Remarks by Gwen Wright Planning Director
If you register here, today, you will be helping the environment. You see, we will be printing maps and assembling other materials. YOu can help us get the numbers right by registering now. We want to have enough for everyone and don't want to be wasteful. Many thanks for your help. We are looking forward to hosting you.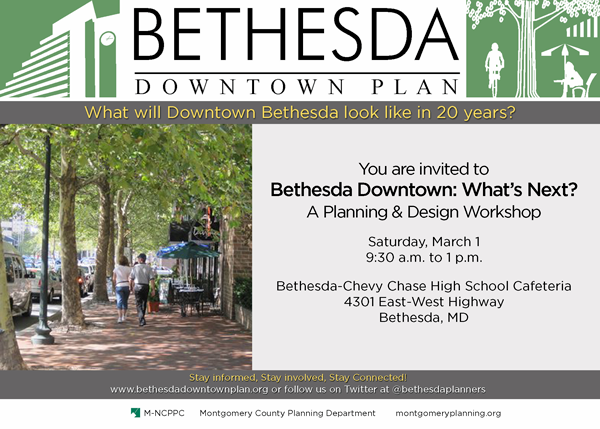 Saturday at Farm Women's Market

This photo of "Successful" Downtown Bethesda, came in from Carol Carrier. Thank you Carol!
Send in Your Photos showing Where Downtown Bethesda "Needs Work"
What do you think about this one? Norfolk Avenue needs work, yes? Attractive streetscape with overhead wires placed underground? That was envisioned in previous plans; however, has not yet been achieved. Please send us your "Needs Work" photos for our upcoming presentation at the March 1st Public Planning and Design Workshop, by noon Friday, February 21st.

An Open Call for Your Best Photos
of Downtown Bethesda Showing Where it is either SUCCESSFUL or NEEDS WORK.
We are preparing an energizing presentation to start off the Public Workshop on March 1st. Your photo could be featured. Please send your photos by NOON Friday, February 21st via e-mail to us at BethesdaDowntownPlan@montgomeryplanning.org. Check through your files, your camera and your cell phone. Send us your photos of what you think is great about Bethesda or what you most want to see change and tell us why. Photos may include friends, relatives and pets - at your discretion. We also accept videos of up to 7 seconds. We will be glad to credit you.
"Successfull" Bethesda - Bethesda Bagels is popular and people enjoy sitting out front eating their bagels on a nice morning. l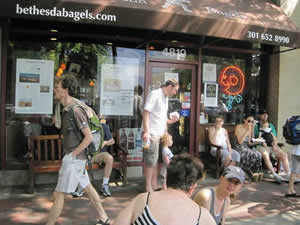 Residents of Downtown Bethesda Gather to Speak Up
Last night, residents hosted a meeting to find out more about the Bethesda Downtown Plan and to express their concerns. The group included people from the Edgemoor Condominiums, Fairmont Plaza, Chase, Hampden Square, City Homes and private homes in Edgemoor. The following summary of the issues raised was provided by Jon Weintraub who organized the event with Jane Fairweather.
1] There is universal opposition to the County Executive's Nighttime Bethesda proposal, if it means extending bar hours and changing the revenue ratio. It should not move forward! What can be done to ensure that the noise ordinance is not altered for downtown Bethesda?

2] There is a desire to have the order of building projects phased in in some fashion so we do not face the traffic and obstruction of multiple construction projects. We realize that each project is approved on its own merit but cumulative impact is never reviewed.

3] There is a need and desire to have developers contribute to an Arts and Entertainment fund for art at the Bethesda metro.

4] The County and the Planning Board need to reinforce and maintain sidewalk space for walkers and police encroachment by restaurants in the downtown when tables are placed outside again

5] What is the planner standard for public green space, library, and recreational facilities per 1000 units of development in the downtown?

6] What can the county and the planning board do to improve the quality of metro service to Bethesda given density decisions are tied to the presence of the metro?

7] Given your data projects a doubling of our population in the next thirty years, what additional public resources need to be provided by the county to the downtown?

8] The need for public amenities to be tied to community needs , wants and desires. Developers should be encouraged to work with the existing Arts and Entertainment district council and have the option of " buying into" an amenity fund with the Arts and Entertainment council in lieu of an on-site amenity.
We hope you will join the conversation; and attend the upcoming Design and Planning Workshop on March 1st at the Bethesda Chevy Chase High School 9:30 am - 1:00 pm. Watch here for more details.
To invite us to meet with your own group Contact Elza Hisel-McCoy or Margaret K. Rifkin at BethesdaDowntownPlan@montgomeryplanning.org to make arrangements.
Save the Date! Saturday March 1st, 9:30 AM - 1:00 PM
Public Workshop
What ideas do you have for Bethesda's future? At this public workshop, you will be able to work with a small group considering a variety of questions about what you would like to see. Come talk, listen, write and draw. Each group will then be able to present a summary of its thinking; what its members agreed upon and where they differed, as well as ideas for implementation.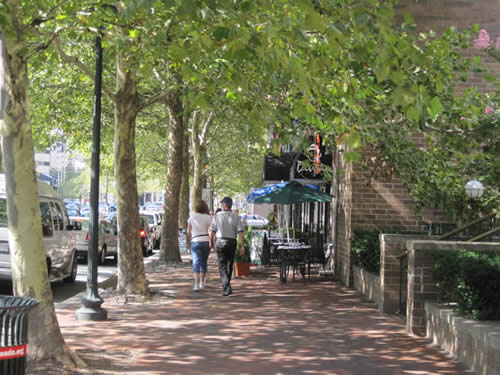 Wisconsin Avenue shown above, has been evolving into a green tree lined boulevard over the years. This was part of the community's vision for Bethesda.
Watch here for more detailed information about the upcoming public workshop. In the meantime, the Bethesda Planners are very busy completing work summarizing the existing conditions in Downtown Bethesda, meeting with property owners and community groups, and preparing for the workshop.
February - Invite Us to Come to You
We accept your invitations! In fact, on Tuesday, February 11 we will be meeting with the Downtown Bethesda Condo Association. Members are City Homes, The Edgemoor, the Edgemoor II, Hamden Square, Villages of Bethesda, the Christopher, Fairmont Plaza, the Chase, and Lionsgate. The Kenwood and Kenwood Forest II participate as observers. We were invited by Jon Weintraub and Jane Fairweather - and hope to be invited by you to meet with your association or a small group of neighbors.
Contact Elza Hisel-McCoy at BethesdaDowntownPlan@montgomeryplanning.org to make arrangements.
Planning Board Approves Next Steps on the Plan

The Planning Board discussed the Scope of Work this morning. They approved the Scope of Work with one new phrase. The Planning Board received comments from Ms. Christine Real de Azua whose written statement is here. After thoughtful discussion, the Planning Board decided to make one modification to the Scope of Work and added the following to page 3, in the paragraph above "Economic sustainability". The sentence will now read; The Plan will explore how to make Downtown Bethesda a model of the three core themes of sustainable development:". The bold text is the added text.
To see the video of this public session, click video link and then enter "Bethesda Downtown Plan" in the search box. Go to video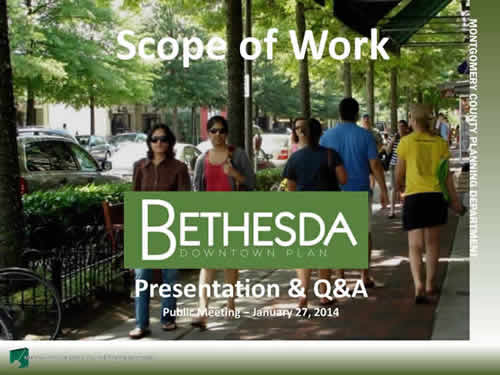 Residents & Real Estate Community Hear About Next Steps on the Plan at Last Night's Meeting
Find out more about the meeting! Here is the PowerPoint presentation. The audio recording linlk is posted below. This next link takes you to the Planning Board's agenda online for this Thursday. You will just need to scroll down until you see the agenda item for the Draft Scope of Work. Over seventy people attended the meeting some representing groups and business interests, and others coming independently. People represented, among others, Our Lady of Lourdes Church, the Sacks Neighborhood, the Town of Chevy Chase, the Bethesda Urban Partnership, Bradley Shopping Center, the Arts and Entertainment District Board, JBG, the Edgemoor Condominiums, Maplewood Homeowners Association, Donohoe, Adolfio/Herman, BF Saul, Klinedinst Management, Peel Properties, Greenhill, Lerch Early and Brewer, the Housing Opportunities Commission, the Gallery at St. Elmo and Chevy Chase West.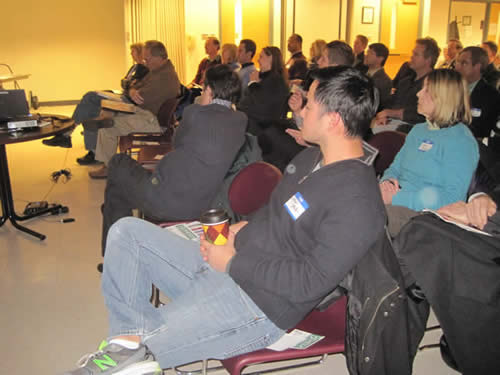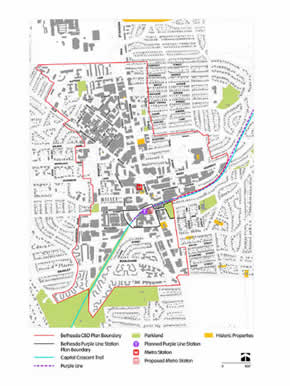 On the left, Jason Yang a business representative on the Western Montgomery County Citizens Advisory Board joined many others to hear about the draft Scope of Work for the Downtown Bethesda Plan. On the right is the proposed Plan Area outlined in red. It is the same boundary as in the 1994 Sector Plan.
Audio Recording of January 27th Meeting
Where Will People Live? with Lisa Sturtevant
The Montgomery County Planning Department is hosting a winter speakers series with a special emphasis on housing. The first event l featured speaker Lisa Sturtevant, Vice President for Research at the National Housing Conference and Executive Director of the Center for Housing Policy. . Get more information via this link, regarding the full 2014 Winter Speaker Series.
Public space 'never ceases to yield happiness'
BLOG Post by Robert Steuteville in "Better Cities and Towns" with Book Review by Phil Langdon HAPPY CITY, TRANSFORMING OUR LIVES THROUGH URBAN DESIGN
"Great public space is a kind of magical good. It never ceases to yield happiness. It is almost happiness itself." With that and other encouraging thoughts from Enrique Peñalosa—a dynamic mayor who helped pull Bogota, Colombia, out of its years of chaos—author Charles Montgomery begins this ambitious, deeply researched book. Happy City is no small undertaking; it's a thorough attempt to explain how a city can increase the well-being of its inhabitants.
Montgomery, who lives in Vancouver, British Columbia, spent five years "charting the intersection of urban design and the so-called science of happiness." "The quest," he says, "led me to some of the world's greatest and most miserable streets. It led me through the labyrinths of neuroscience and behavioral economics. I found clues in paving stones, on rail lines, and on roller coasters, in architecture, in the stories of strangers who shared their lives with me, and in my own urban experiments."
check out the rest of this post on http://bettercities.net/news-opinion/blogs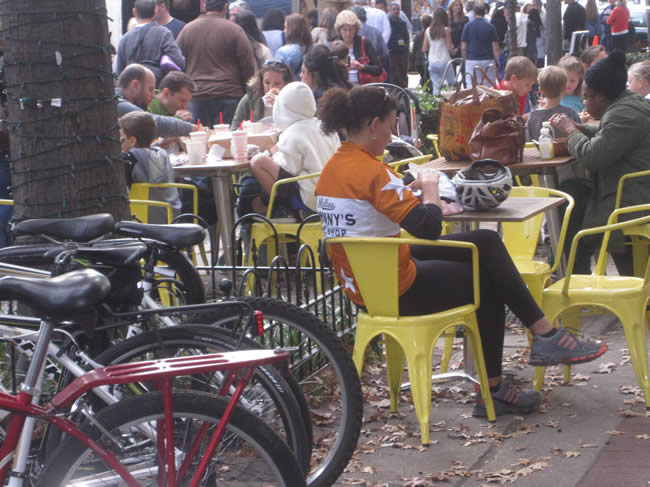 What, How and Why?
The current Bethesda Sector Plan has now been in effect for twenty years and now Montgomery County Planners, with the help of residents and business owners are taking a fresh look at how Bethesda Downtown might evolve over the next twenty years. There are many ways for you to get involved with the process including attending public meetings and workshops, following @bethesdaplanners on Twitter and signing up for the Bethesda Downtown news release list.
Questions or comments? Contact Project Manager/Lead Planner Elza Hisel-McCoy Project
Email: bethesdadowntownplan@montgomeryplanning.org
Phone: 301-495-2115
During 2014, planners will work with the public to:
assess what is great about their downtown and what could be better;
refresh the Plan's vision for downtown Bethesda; and
revisit the Plan's recommendations for a variety of topics including:

land use and density;
urban design and character – including building height;
open space;
mobility – walking, biking, riding transit, driving
environmental quality
Crosswalks and the Arts
As we proceed, we will share with you items of interest such as this, that inspire our thinking about downtown Bethesda. If you come across any images or articles that you would like to share, please send them to us. This one is from an article from Atlantic Cities on the web. Please note, this type of "art intervention" at an intersection, would require approval of the Montgomery County Department of Transportation and, where a state highway is involved, the State Highway Administration. In addition, the cost of implementation and assumption of maintenance responsibilities would need to be addressed. That being said, what do you think? The full article and more pictures can be seen at http://www.theatlanticcities.com/neighborhoods/2013/12 . Below the zipper crosswalk image is one from Seattle from one of our transportation engineers, that illustrates how varied these designs can be.
What We are Doing Now
Yes, we are working hard to meet this Friday's internal deadline for summarizing existing conditions in Bethesda. We are looking at everything from demographics, to traffic, to carbon footprint to land use to open space, to jobs and housing balance. With this and with what you have told us so far in meetings and via social media, we will create a summary of issues we believe the plan should address, a work schedule showing steps and "products" at each step, as well as the timing of public meetings and other outreach to you. We refer to this as our scope of work for the plan.
Perspectives from the Woodmont Triangle Action Group
The Woodmont Triangle Action Group (WTAG) decided to put together their own thoughts on Bethesda's strengths, weaknesses, opportunities and threats (known as a "SWOT" analysis), to contribute to discussions on the update of the plan. Take a look at their good work and if you would like to comment, scroll down to the end of the page. There is a box where you can write your comments - and where we can respond.
Perspectives on Bethesda in Anticipation of an Update to the Bethesda Sector Plan
October 11, 2013, Draft

Bethesda Strengths

Bethesda Weaknesses

Pedestrian Friendly
Montgomery County's "Downtown"
Montgomery County's economic engine
Good for foodies; diverse restaurants
Diverse
Safe
Walkable
Sense of community
Access to transit
Good location
Bethesda Urban Partnership (BUP)
Bikeable/Bikeshare
Presence of High School
BCC Rescue Squad
Churches
Arts/entertainment options
Engaged Community
Metro
Diversity of housing options
Country clubs
Capital Crescent Trail
Fractured land ownership

Pedestrian safety
Traffic
Fractured land ownership
Poor lighting
Urban noise: construction, traffic, nightlife
Constrained geographic area
Limited green space
No recreation center
Limited youth activities
Cost of living/affordability
Post office
High retail rent
Business regulations/business climate
Bethesda Metro plaza/Metro
One-way streets
Urban canyons (limited sunlight)
Above ground power lines

Bethesda Opportunities

Bethesda Threats

Traffic calming
Engaged community
More integration with NIH/Walter Reed
Better sidewalks
Homogeneous streetscape
Enhanced lighting
Commercial/Residential development
Youth appeal
New residents
Independent retailers
Healthcare facilities/businesses
Bikeshare
Metro
More entertainment options

Homelessness
Other communities (e.g., DC, Arlington)
Increased taxes
Renter/owner tension
Perception of limited parking
Traffic
Cost of living
Construction
Demographics (old)
BUP funding
Limited power grid
Aging infrastructure
Access to downtown
Aggressive ticketing for parking
Limited school capacity
Pedestrian connectivity
See Notes about What You Said at the Public Meetings
See the scribe's notes from the large newsprint tablets where we recorded your comments at the Kick-Off and Drop-In Meetings in November. Also see the written comments that some of you provided individually in response our questions. (Remember those "question" sheets we also had available for you to use?)
Nightime Economy Task Force Ideas
http://montgomerycomd.blogspot.com/2013/11/nighttime-economy-task-force-submits.html
What in particular do you think should inform the recommendations in the Bethesda Downtown Plan?
As we move through the process of preparing the plan, we will provide opportunities for you to share your thoughts on this and other topics. You can also tell us now via e-mail at BethesdaDowntownPlan@montgomeryplanning.org or below in the "comment" box.
Next - Invite Us to Come Listen!
Bethesda Planners would like to hear from you and your neighbors about your priorities and concerns, and answer your questions about the planning process and how you can participate further. Please consider inviting us to a gathering of neighbors or a meeting of an established group or organization, such as your Homeowner's Association. Email us: bethesdadowntownplan@montgomeryplanning.org
or call: Margaret K. Rifkin at 301 495 4583 or Elza Hisel-McCoy at 301-495-2115
Kick-Off Meeting
The focus is on LISTENING! Slides from brief presentations by Planning Director Gwen Wright and Planning Board Chair, Francoise Carrier are here. The handout provided at the meeting is here.
Audio from their presentations can be heard below:
Meeting Attendee Group Presentations beginning with the third presentation..due to a glitch. Notes from all the presentations will be posted soon:
Past - Bethesda Downtown Plan kick-off meeting
When: Monday, November 4, 2013, at 6:30 p.m.
Where: Bethesda-Chevy Chase Regional Services Center, 4805 Edgemoor Lane, Bethesda (above Chipotle)
What: The Montgomery County Planning Department is holding a community meeting for the Bethesda Downtown Plan with doors opening at 6:30 P.M. A presentation will begin at 7:00 PM followed by discussions. Please come to the meeting to learn more about this update of the Bethesda CBD Sector Plan from 1994 and the Woodmont Triangle Amendment to that Plan from 2006. Come share your thoughts and comments with the Planning Department team. Staff will prepare a presentation and handout for the meeting. All meeting materials will be posted online after the meeting on the website.
For directions and more information or to join the mailing list:
Email us: bethesdadowntownplan@montgomeryplanning.org
Follow us on Twitter: twitter.com/bethesdaplanner
A fresh look – The update of the Bethesda CBD Sector Plan is starting now!
The current Sector Plan has now been in effect for twenty years and it is time to take a fresh look at how Bethesda Downtown might evolve over the next twenty years.
With you, over the next 12 months we will:
assess what is great about your downtown and what could be better;
refresh the Plan's vision for downtown Bethesda; and
revisit the Plan's recommendations for a variety of topics including:

land use and density;
urban design and character – including building height;
open space;
mobility – walking, biking, riding transit, driving
environmental quality
How can you participate?
In addition to outreach events, beginning November 4, you can schedule a time to meet with staff in our offices in Silver Spring, in Bethesda, or at your own group's meeting. To schedule a time, contact us! We will regularly update the following list to let you know with whom we've been meeting.
What meetings we are having as of 2/12/14
Public Meetings/Workshops in red, are hosted by Bethesda Planners, the Montgomery County Planning Department.
Future
Fall 2014 TBD -

Public Meeting

- focus will be on the actual recommendations to be included in the plan
Spring/Summar 2014 TBD -

Public Meetings/Workshops

- one or more, with topics focussing on mid-stage planning work
Saturday March 1 -

Public Meeting/Workshop

- 9:30 AM- 1:00 PM at the Bethesda Chevy Chase High School.
Thursday, February 27 - 4630 Montgomery Avenue
Friday, February 14 - Woodmont Triangle Action Group - Parks Department Staff presenting on Urban Parks
Thursday, February 13 - Arts and Entertainment District Board - staff iserves as ex officio member

Past

Tuesday, February 11 - The Downtown Bethesda Condo Assn (City Homes, The Edgemoor, the Edgemoor II, Hamden Square, Villages of Bethesda, the Christopher, Fairmont Plaza, the Chase, and Lionsgate. The Kenwood and Kenwood Forest II participate as observers.]
Monday February 10- Arlington and Bradley Boulevard Property

Wednesday, February 5 - Bethesda Police Station Site - StonebridgeCarras

Friday, January 31 - Brookfield and Metro Center

Friday, January 31 - Federal Realty Investment Trust and Woodmont East

Thursday, January 30 - Scope of Work at Planning Board
Wednesday, January 29 - Donohoe - Woodmont Central, Hilton Garden Inn, historic Post Office
Wednesday, January 29 - Montgomery County Public Library
Monday, January 27, 2014 -

Public Meeting - Presentation and Q&A regarding draft Scope of Work

Friday, January 24 - Montgomery Children's Museum
Thursday, January 23 - Greater Bethesda Chevy Chase Chamber of Commerce
Wednesday, January 22 - 7500 Pearl Streete
Wednesday, January 22 - Lenny Greenberg
Friday, January 10 - BF Saul
Friday, January 10- Montgomery Avenue Corridor - ProMark
Thursday, January 9 - Arts and Entertainment District Board Meeting
Tuesday January 7 - Sacks Neighborhood
Tuesday January 7 - Housing Opportunities Commission
(Friday, January 10, 2013) Postponed -Woodmont Triangle Action Group - (regular meeting at which staff serves as ex-officio member)
Monday, January 6, 2014 - 4885 Edgemoor Lane
Friday, December 20 - ProMark Property Owner, Montgomery Avenue
Tuesday, December 17- Bethesda Arts and Entertainment District Board (regular meeting at which staff serves as ex-officio member)
Tuesday, December 17 - Bradley Shopping Center
Monday, December 9 - Bethesda Green
Tuesday, December 3 - Property Owner, 7140 Wisconsin Avenue
Tuesday, December 3 - Property Owners Bethesda Travel Center (4422 East West Highway) & Bethesda Dental Care (4425 Montgomery Avenue)
Monday, November 25 - Aldon Management Properties - 4857, 4858, 4890 Battery Lane; 4701, 4730, 4740 Bradley Boulevard; 4750, 4757 Chevy Chase Drive; 8218 Wisconsin Avenue
Tuesday, November 19 - Bethesda Urban Partnership Board
Friday, November 15 - Lerch Early Brewer Land Use Seminar - Panelist, Planning Director Wright (8-10 am)
Friday, November 15 - Bethesda Transportation Management District Advisory Board - Hisel-McCoy (7:45-8:30 am)
Friday, November 15 - Bethesda Arts and Entertainment District Board - Rifkin (8-9 am)
Thursday, November 14 - *Drop In

Public Meeting

The Writer's Center
Wednesday, November 6 - *Drop In

Public Meeting

, Imagination Stage
Monday, November 4 - *Kick Off

Public Meeting

Bethesda Regional Services Center
Wednesday, October 23 - Bethesda-Chevy Chase Chamber of Commerce Real Estate Committee
Comment
Let us know what you think
Related sites
Contact
Project email: bethesdadowntownplan@montgomeryplanning.org
Twitter: @bethesdaplanner
Phone: 301-495-2115, Elza Hisel-McCoy, Project Manager/Lead Planner
Last updated: March 6, 2014