This fresh look at Downtown Bethesda serves as a twenty year checkup, to assess with the community what is great about Downtown Bethesda and what could be better. This is an opportunity for the community, property owners and business owners to refine the vision for a successful Downtown Bethesda. This also involves revisiting the current Plan's recommendations. Plans address land use and density; urban design and character, open space, mobility, as well as environmental quality. The work on the Plan will be organized around three themes: social sustainability, economic sustainabiliy and environmental sustainability. We ask you all to join us in a shared commitment to: collaboration, creativity and integrity as we move forward together in our work. The forthcoming Bethesda Downtown Plan will update the 1994 Bethesda Central Business District Sector Plan and the 2006 Woodmont Triangle Amendment to that Sector Plan.
See the Latest on the Fall Schedule and Plan to Participate!
This Fall you will have several opportunities to participate as follows:
Property Owners Exhibit/Open House Update! Going Virtual? - We are exploring holding this exhibit style open house online instead of in the conventional face to face format at a specific venue and time: you can then participate via your smartphone, tablet, laptop or desktop...from home, office or waiting to pick up your child at karate.. We beleive that this will make it easier for more of you to participate. It is tentatively scheduled for mid to late October. As previously described, this is envisioned as an opportunity for property owners who have been working on ideas for their sites to share them with the community and other property owners. We encourage you to discuss these ideas with one another and look for synergies, possible collaborations and ways to address issues.
Happy Hour hosted by local firm - This is the next in the series where we have been guests. This is tentatively scheduled for November or December. It follows on the three Happy Hours held earlier in the year that were hosted in Downtown Bethesda by the Greater Greater Washington blog, the Congress for New Urbanism DC Chapter, Young Innovation Professional Planning Superstars (YIPPS) in DC, Young Leaders in Affordable Housing (network within the National Housing Conference), and most recently, Streetsense, JBG and Clarke Construction. A local firm has expressed interest in partnering with local chapters of several professional organizations. More to come on this.
Presentation of Preliminary Recommendations - is scheduled for December. They will be presented to the community at a meeting and online and then to the Planning Board in a briefing where the Planning Board can provide guidance in anticipation of the completion of the Staff Draft plan.
Online Feedback Loop for Preliminary Recommendations - Quick and Easy! This is scheduled for December to coincide, of course, with the Presentation of Preliminary Recommendations. A series of short questions, relating to the preliminary recommendations, will be sent to you via the e-mail list. They will also be accessible from this website. The purpose is for us to get a very general sense of the level of agreement in the community with the direction of the work on the plan. Our goal is to make it simple and easy for all of you to participate at your own convenience: from your laptop, desktop or smartphone. We aim to set this up so you can focus on what matters most to you and answer a few questions or many, depending on your preferences. This is an informal way for us to hear from you as we move forward on the Staff Draft Plan.
Presentation of the Staff Draft Plan to the Planning Board scheduled for early 2015.
The Planning Board holds a public hearing and worksessions on the Plan before.....
Transmittal of the Planning Board Draft Plan to the Montgomery County Council scheduled for Spring 2015.
Tour Downtown Bethesda 10-12 This Saturday 9/13/14
with the Coalition for Smarter Growth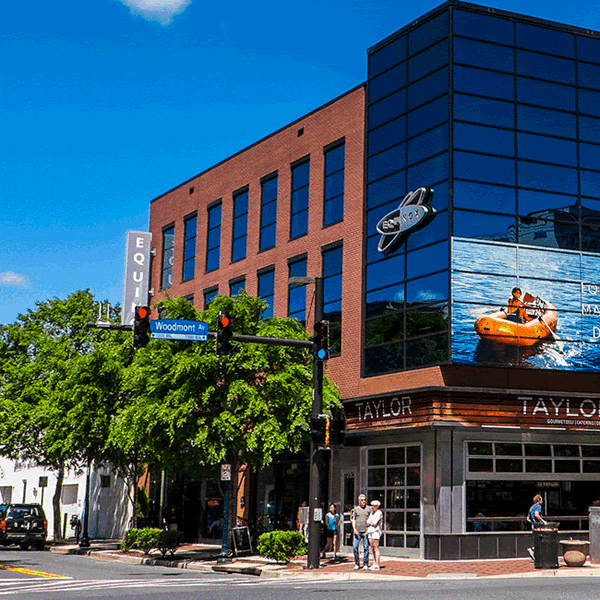 The invitation from the Coalition for Smarter Growth says: "Explore key opportunities for change, including new transit connections, needed pedestrian and bike improvements, new approaches to open space, and innovative ways to address housing demand and affordability. We'll also talk about how smart growth design principles can transform not only a building, but the surrounding neighborhood as well. Our tours are active, so please wear sturdy shoes and sunscreen, and bring a water bottle!"
Use this link: smarter growth to find out more about this tour.
Bethesda Downtown Plan on Montgomery Plans
Find out the latest with the Bethesda Downtown Plan – hear from Area 1 Supervisor Marc DeOcampo about how you can get involved with the future of Downtown Bethesda. This segment is airing on CCM (County Cable Montgomery):
Listen to WAMU: 'Reimagining Bethesda'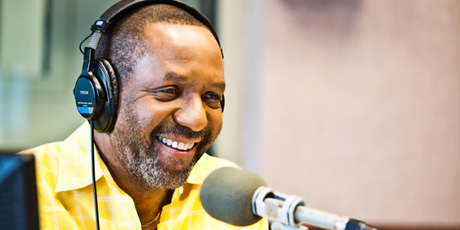 The following text is from the WAMU website:
"Kojo and architect and urban planner Roger Lewis chat with Montgomery County planning director Gwen Wright.
The changes that have been sweeping through neighborhoods throughout the District for the past two decades are also affecting life in the suburbs surrounding the city. Montgomery County is in the midst of updating its plan for Bethesda's central business district, a pocket of Maryland that's evolved into a dense, urban center. Kojo and architect and urban planner Roger Lewis chat with Gwen Wright, the county's planning director, about the effort to re-imagine Bethesda - and her vision for the rest of the county.
Guests
Gwen Wright, Planning Director, Montgomery County (Md.)
Roger Lewis - Architect; Columnist, "Shaping the City," Washington Post; and Professor Emeritus of Architecture, University of Maryland College Park"
Listen to the interview here.
What Are We Working On Now?
Tasks that are underway right now include the preparation of:
Concepts for each district showing what each could be like as change occurs. These take into consideration ideas and comments from the community, including owners of specfic properties, as well as the vision for the entire downtown.
Development Scenarios for transportation analysis to determine effects on walkers, transit users, bicyclists and drivers.
A Retail Study to get a sense of what type and amount of retail is likely to be competitive in various locations in the future.
An online "Feedback Loop" for us to hear your responses to draft recommendations (coming in late Fall.)
What a VERY Full House Banters about Bethesda's Future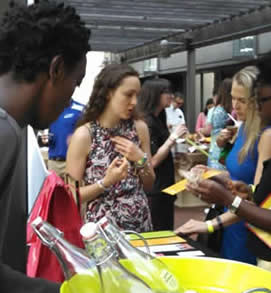 The "Untapped Perspectives" Happy Hour last night hosted by Streetsense was a great success. The final count of the number of guests is not in yet. We do know that this event, targetted specifically for those of you who are millennials, garnered over 500 RSVP's. As we have reported, over 40% of you who live in Downtown Bethesda and many who work here, are millenials. We had the great pleasure of speaking with many of you last night.
If you were there, you may have been approached by roaming Streetsense staff armed with ipads asking a variety of questions about your interests and preferences. We hope that each of you were also invited to become part of a public "Feedback Loop" for the Bethesda Downtown Plan by Bethesda Planners who were also circulating. We want to make sure that we are casting a wide net and hearing from a variety of perspectives. The Feedback Loop will be useful in our hearing your thoughts on the preliminary plan recommendations that are scheduled to be completed in the late fall. Everyone on our e-newsletter list will have the opportunity to participate.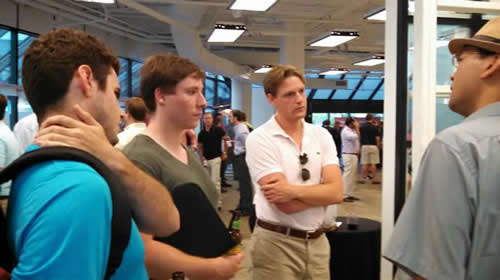 Bethesda Planners brought the draft Framework Plan that is underway and were busy all night answering questions and listening to guests. IN addition, Streetsense will be sharing with us what they learned at the range of engaging stations and activities they set up to gather insights. Watch for more in the coming weeks.
Thank you to hosts Streetsense, JBG and Clark Construction. If you would like to host an event, please contact Margaret K. Rifkin, AICP, RLA, 301 495 4583; BethesdaDowntownPlan@MontgomeryPlanning.org.
EcoDistrict Summit in DC September 24-26
for more information see:http://ecodistricts.org/summit/
See the Presentation to the Planning Board on June 26
View the full presentation (pdf, 12MB) from the briefing given by the Bethesda Downtown Plan team to the Planning Board on June 26 on the progress of the plan.
Results Are In !!!!!! What did you say your ideal Bethesda should look like? Visual Preference Survey
New - Results - Round 1
New - Results for Round 2

About the survey - For each neighborhood in downtown Bethesda, questions about street character, gathering space, and the types of landscaping for those spaces were presented. While it is not an actual scientific survey, it does provide images that will inform our future discussions about scale and height. The responses will provide us with insights and help guide the look and feel of Bethesda for the next twenty years and beyond. - The survey is now closed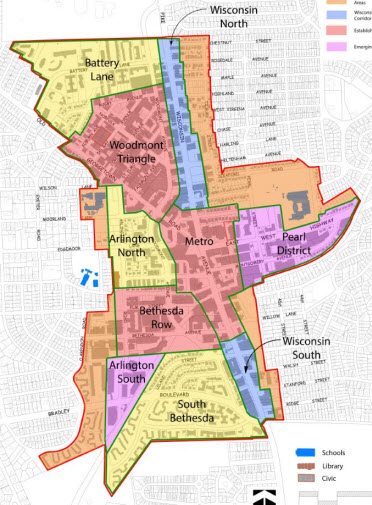 Downtown Bethesda as an EcoDistrict?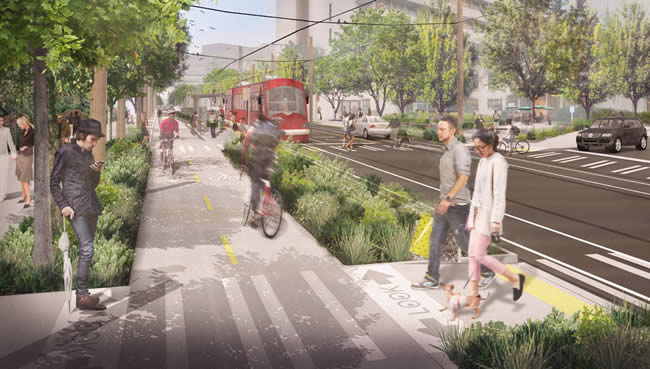 This illustration of a design concept for First Hill Streetcar Line in Seattle shows a variety of features consistent with sustainable development objectives. This image is being used courtesy of Mithun which holds the copyright.
What is an EcoDistrict? - slides - (These are slides from a presentation originally scheduled for May 17, 2014 that will be rescheduled for a future time)
In short, an ecodistrict aims to integrate objectives of sustainable development and reduce an area's ecological footprint by setting ambitious levels of requirements. Each ecodistrict sets its own performance area goals, objectives, and strategies for maximizing sustainability. Most often, goals exceed local regulation and standards.
Draft Framework Plan for your comment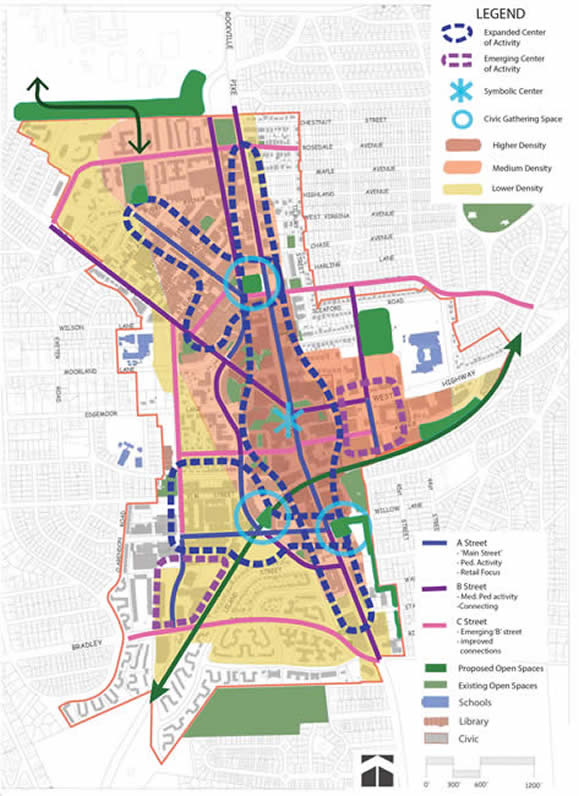 On Saturday we hosted a second workshop for the Bethesda Downtown Plan at Bethesda-Chevy Chase High School. We presented a draft framework concept for the plan based on feedback from numerous community meetings and discussions held since last fall.
Description of the Draft Framework Concept
The concept, above, shows several areas as "Expanded Centers of Activity" and two as Emerging Centers of Activity. These designations were informed by the community work at the March 1 Workshop. A "Symbolic Center" is shown at the Metro Station which acknowledges the fact that while the area is not a retail destination and center of a variety of activities, it is indeed a "Symbolic Center" and a transit destination. Blue circles show where lively, enhanced "Civic Gathering Space" can be in the future.The framework concept also shows other existing and proposed open spaces.
The big areas of color that range from light to dark in tones of gold and orange, represent levels of density ranging from lower to higher. Many areas along the edge of the Downtown are left without any color overlay since they are low density transition areas.
The draft framework concept shows three types of streets based on pedestrian use:
A Street:

-"Main Street"
-Pedestrian Activity
-Retail Focus

B Street

-Medium Pedestrian actjivity
-Connecting

C Street

-Emerging "B" street
-improved connections
Break Out Sessions
This was followed by a break-out session where participants worked in groups to focus on specific areas and provide comments on the framework concept. The group shown here is looking at the Wisconsin Avenue Corridor and using images from the Visual Preference Survey, is identifying what scale they believe is appropriate in varous areas. You can see the blue bubbles they are drawing on the plan and the photos, A,B,C,D and E, showing streets lined with buildings, each image representing a different scale.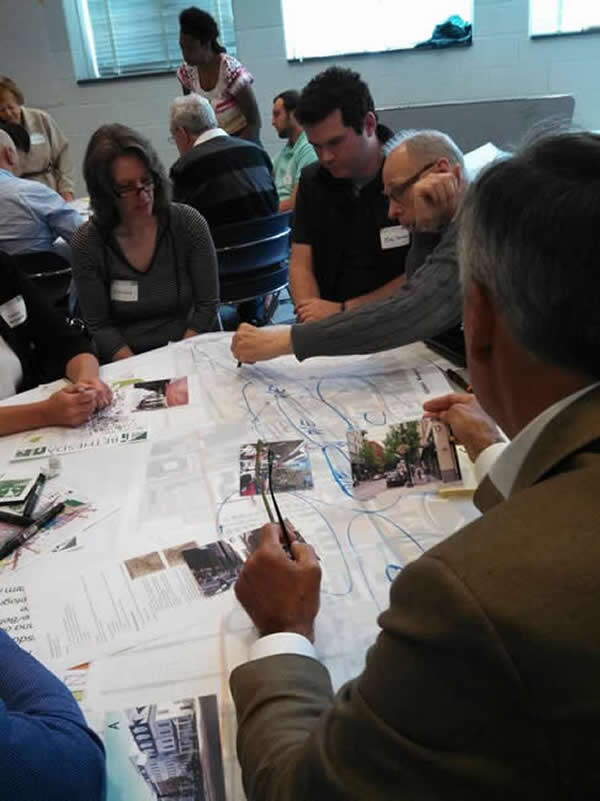 See the slide presentation from the May 17th workshop
Here is the link. BDP May 17 Workshop Presentation . Find out about the draft Framework Concept, and the current staff thinking on Parks and Open Space, the Environment, Complete Streets and Urban Design and Street Character!
Thank you for joining us at the YLAH-Hosted Happy Hour last Thursday
Thank you for coming and talking with us about the Bethesda Downtown Plan at Caddie's last Thursday. Stay tuned for our next appearance at a Happy Hour..be watching for one in June. Please also consider inviting us to yours...
Emerging Leaders Create Happy Hour Buzz at Tommy Joe's

Great conversations about making Bethesda even better were the topics at last night's Happy Hour at Tommy Joe's sponsored by Greater Greater Washington, Congress for New Urbanism's DC Chapter and YIPPS ( Young Innovative Professional Planning Superstars).
Three short 20X20 (20 slides 20 seconds each) presentations included one by Doug Firstenberg of Stonebridge Carras about Bethesda, one by Marc DeOcampo, a Bethesda Planner, about encouraging people to "Make Your Mark" on Bethesda, and one by volunteer urban designer JC Alaya with creative ideas for improving downtown Silver Spring. People mingled and had animated one on one conversations. Many wrote comments on paper covered tables, & exchanged contact information. Some received advice from seasoned professionals about how to effect change. People who came included condo owners from the Battery Lane neighborhood, a professional planner from one of the Institutes at NIH, a transportation activist from the Bradley Boulevard neighborhood as well as other young professionals from the sponsoring groups.
Open House Draws Many
Many of you came to find out about the planning process and see our work so far.
We are still in the middle of the planning process. The Draft Plan is scheduled to go to the Planning Board starting in Fall 2014. There is still time to weigh in. Last night, people asked questions and discussed their ideas and concerns with planners. Both newcomers and long-time participants attended: residents and development professionals. Representatives from the Woodmont Triangle Action Group and the Arts and Entertainment District Board were there as well.
The Boards we presented can be downloaded here:
.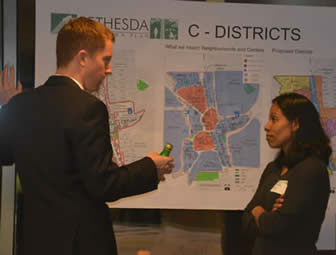 Two of the guests at the open house conversing about the future of Bethesda and its Districts
.
.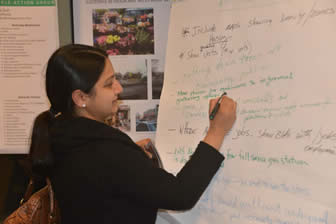 A first time participant who is a member of the community (and an urban planner) adds her comments to a growing list.
People saw:
A new diagram that shows the prevailing thoughts about subareas, centers and connections.

Updated posters of existing conditions and what we have heard so far.
There were several questions displayed on posters. People could respond with colored dots. The questions were:
Which are your highest priority districts to focus on? The map below shows miodifications to the 1994 Plan's division of the area into districts.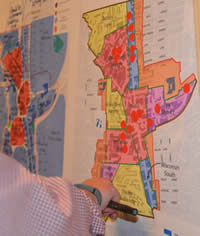 What do you want outdoors? (Show us your priorities.) The most popular were "A place with grass and strees and benches" and "A place to gather with friends". We know this isn't a proper social scientist's survey, but it does help us to know you and your priorities.
Which one way streets should be two way?
Which streets should be closed to cars for special events?
We will post questions online in the upcoming months to find out more about what you would like Bethesda to be like in the future.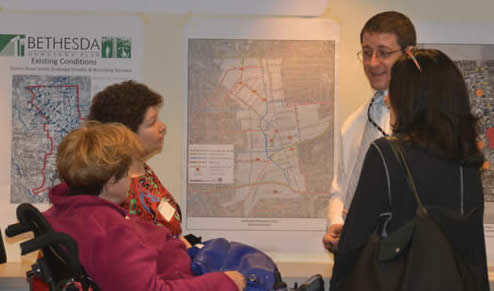 A discussion about crosswalks with Matt Folden, the planning team's expert on transportation.
The Bethesda Downtown Plan Needs You!
Check out how you can get involved with the Planning Department's Bethesda Downtown Plan and help shape the future of the heart of Bethesda for the next 20 years!
Reaching Resident Millennials
Well known local blog, BethesdaNow, reported on our March 1st workshop noting the successful draw of 130 participants but questioned who was largely missing. "But mostly missing were millennials, the 20- to 34-year-olds who the Planning Department says make up 40 percent of the roughly 10,610 residents of the 450-acre downtown Bethesda area," wrote Aaron Kraut. "Planners counted six of them at the March 1 meeting." See the entire BethesdaNow article here.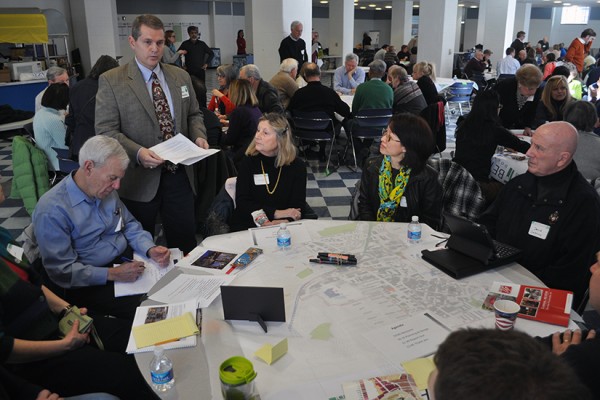 The March 1 workshop was well attended. Here, Robert Kronenberg of the Planning Department serves as the facilitator for a group. Residents, property owners and development professionals participated. Photo from BethesdaNow.
March 1st Workshop - Recap
Over 130 people attended a workshop on the Bethesda Downtown Plan. Watch the short recap video below to find out what happened at this event hosted by the Montgomery Planning Department. Here are the maps and drawings used by the participants to answer four questions:
What do you want to be able to Bike to in Downtown Bethesda?
Where should there be more Green Space in Downtown Bethesda?
Where is it Most Difficult to Cross the Street in Downtown Bethesda?
Where is the Heart of Downtown Bethesda?

Their answers will help to inform the recommendations of the plan. There are also drawings prepared by each of fourteen small groups. They are being used to inform our work creating several big picture alternatives. Those alternatives will be provided for community discussion as a next step.
Bethesda Downtown Plan Briefing Book Just Released
This compact but comprehensive review covers where Bethesda has been in terms of history and development and outlines today's conditions, from historic resources, to transportation, parks, and environment to demographics.
Download Briefing Book (40MB).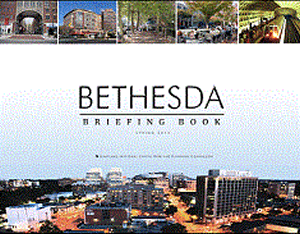 Contents:
Existing Conditions
Historic Resources
Social and Cultural Resources
Transportation and Access
Environment
Parks, Open Spaces and Trails
Urban Design
Landuse and Development
Demographics
Economic and Market Data
Plans and Policies
Planning Framework
Additional Studies
Help Engage The Missing Millennials !
We had wonderful participation at the March 1 Workshop which was attended by approximately 130 people. The Baby Boomers came out in force and are to be applauded. The six Millennials and twenty-one Gen-X'ers who came get special kudos as well.
However, did you know that:
40 percent of the residents of Downtown Bethesda are Millennials (age 20-34)? >
20 percent are Gen-X'ers?
26 percent of the workers in Downtown Bethesda are under the age of 30?
30 percent consider themselves to be of a "non-white" race?

So, we thank you for being involved and hope that you will help us engage the missing. We welcome your:
Insights and ideas;
Offers to host an activity;
Willingness to encourage others to sign up for the E-Mail List or come to a future event.
Interested? Find More Here:
Meetings
Your Thoughts and Concerns
Ideas and Images
How You Can Participate and Stay Connected...
Join our e-mail list
Follow us on Twitter: @bethesdaplanner #bethesdadowntownplan
Write to us at BethesdaDowntownPlan@montgomeryplanning.org
Meet with us in our offices in Silver Spring, or in Bethesda, or at your own group's meeting. Contact us to schedule.
Come to public meetings, workshops and other outreach events
Comment
Let us know what you think
Contacts
Leslye Howerton, Assoc. AIA, LEED-GA, Planner Coordinator, Area 1 301-495-4551
Questions and to arrange a meeting with us
Marc DeOcampo, AIA, LEED-AP, Master Planner-Supervisor 301-495-4556
Margaret K. Rifkin, AICP, RLA, Outreach 301-495-4583
Public Meetings, Website & Social Media Content
Matt Folden, Transportation 301-495-4538
Tina Schneider, Environment 301-495-2101
Laura Shipman, Urban Design 301-495-4558
John Marcolin, RLA, LEED-AP, Urban Design 301-495-4547
Rachel Newhouse, Coordinator, Parks Department 301-650-4388
Last updated: September 24, 2014