Bethesda Photos
We asked you to send in your photos showing where Downtown Bethesda needs work and where it is successful. And we included some of our own. What do you think? Send yours in!

Saturday at the Farm Women's Market by Carol Carrier.

Norfolk Avenue needs work: completion of streetscape and placement of wires underground.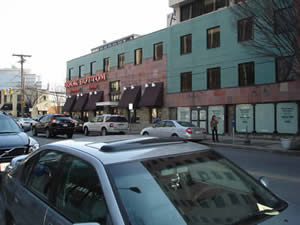 Bethesda Bagels is popular and people enjoy sitting out front eating their bagels on a nice morning.
How Can You Participate?
Follow us on Twitter @bethesdaplanner, #bethesdadowntownplan
Attend Outreach Events
Meet with us: In addition to outreach events, you can schedule a time to meet with staff in our offices in Silver Spring, in Bethesda, or at your own group's meeting. To schedule a time, contact us.
Email: bethesdadowntownplan@montgomeryplanning.org
Twitter: @bethesdaplanner

Elza Hisel-McCoy, Assoc. AIA, LEED-AP, Project Manager 301 495 2115
Questions and to arrange a Meeting with Bethesda Planners
Margaret K. Rifkin, AICP, RLA, Outreach 301 495 4583
Public Meetings & Outreach Activities, Website & Social Media Content

Matt Folden, Transportation 301 495 4538
Tina Schneider, Environment 301 495 2101
John Marcolin, RLA, CNU, LEED-AP, Urban Design 301 495 4547
Last updated: August 1, 2016