Scope of Work - Public Meeting/Briefing and Planning Board Review and Approval
Planning Board Approves Next Steps on the Plan

The Planning Board discussed the Scope of Work this morning. They approved the Scope of Work with one new phrase. The Planning Board received comments from Ms. Christine Real de Azua whose written statement is here. After thoughtful discussion, the Planning Board decided to make one modification to the Scope of Work and added the following to page 3, in the paragraph above "Economic sustainability". The sentence will now read; The Plan will explore how to make Downtown Bethesda a model of the three core themes of sustainable development:". The bold text is the added text. Download the powerpoint presentation here.
To see the video of this public session, click video link and then enter "Bethesda Downtown Plan" in the search box. Go to video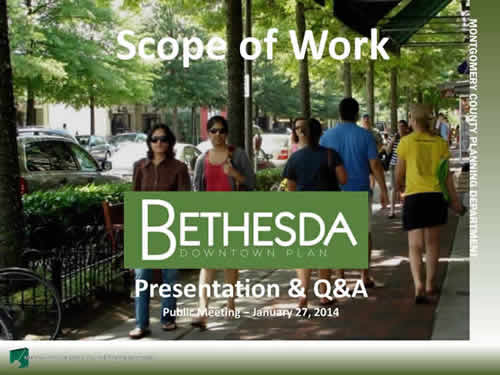 Residents & Real Estate Community Hear About Next Steps on the Plan at Last Night's Meeting
Find out more about the meeting! Here is the PowerPoint presentation. The audio recording linlk is posted below. This next link takes you to the Planning Board's agenda online for this Thursday. You will just need to scroll down until you see the agenda item for the Draft Scope of Work. Over seventy people attended the meeting some representing groups and business interests, and others coming independently. People represented, among others, Our Lady of Lourdes Church, the Sacks Neighborhood, the Town of Chevy Chase, the Bethesda Urban Partnership, Bradley Shopping Center, the Arts and Entertainment District Board, JBG, the Edgemoor Condominiums, Maplewood Homeowners Association, Donohoe, Adolfio/Herman, BF Saul, Klinedinst Management, Peel Properties, Greenhill, Lerch Early and Brewer, the Housing Opportunities Commission, the Gallery at St. Elmo and Chevy Chase West.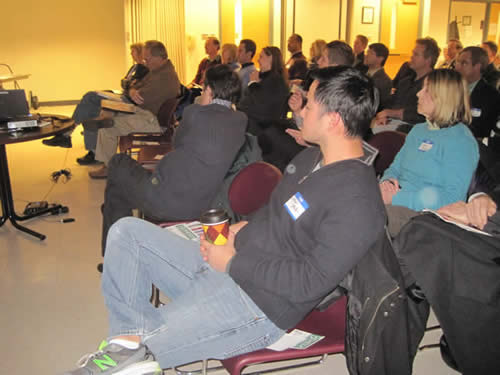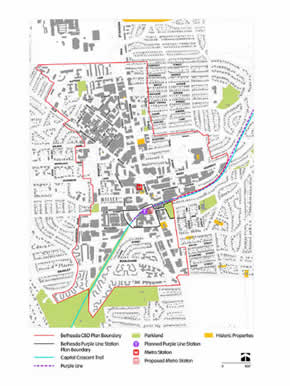 On the left, Jason Yang a business representative on the Western Montgomery County Citizens Advisory Board joined many others to hear about the draft Scope of Work for the Downtown Bethesda Plan. On the right is the proposed Plan Area outlined in red. It is the same boundary as in the 1994 Sector Plan.
Audio Recording of January 27th Meeting
How can you participate?
In addition to outreach events, beginning November 4, you can schedule a time to meet with staff in our offices in Silver Spring, in Bethesda, or at your own group's meeting. To schedule a time, contact us! We will regularly update the following list to let you know with whom we've been meeting.
Contact
Email: bethesdadowntownplan@montgomeryplanning.org
Twitter: @bethesdaplanner

Elza Hisel-McCoy, Assoc. AIA, LEED-AP, Project Manager 301 495 2115
Questions and to arrange a Meeting with Bethesda Planners
Margaret K. Rifkin, AICP, RLA, Outreach 301 495 4583
Public Meetings & Outreach Activities, Website & Social Media Content

Matt Folden, Transportation 301 495 4538
Tina Schneider, Environment 301 495 2101
John Marcolin, RLA, CNU, LEED-AP, Urban Design 301 495 4547
Last updated: August 1, 2016