Interesting Ideas
Where Will People Live? with Lisa Sturtevant
Watch the Video here Live and OnDemand Media - Powered by Granicus.com
The Montgomery County Planning Department is hosting a winter speakers series with a special emphasis on housing. The first event l featured speaker Lisa Sturtevant, Vice President for Research at the National Housing Conference and Executive Director of the Center for Housing Policy. . Get more information via this link, regarding the full 2014 Winter Speaker Series.
Public space 'never ceases to yield happiness'
BLOG Post by Robert Steuteville in "Better Cities and Towns" with Book Review by Phil Langdon HAPPY CITY, TRANSFORMING OUR LIVES THROUGH URBAN DESIGN
"Great public space is a kind of magical good. It never ceases to yield happiness. It is almost happiness itself." With that and other encouraging thoughts from Enrique Peñalosa—a dynamic mayor who helped pull Bogota, Colombia, out of its years of chaos—author Charles Montgomery begins this ambitious, deeply researched book. Happy City is no small undertaking; it's a thorough attempt to explain how a city can increase the well-being of its inhabitants.
Montgomery, who lives in Vancouver, British Columbia, spent five years "charting the intersection of urban design and the so-called science of happiness." "The quest," he says, "led me to some of the world's greatest and most miserable streets. It led me through the labyrinths of neuroscience and behavioral economics. I found clues in paving stones, on rail lines, and on roller coasters, in architecture, in the stories of strangers who shared their lives with me, and in my own urban experiments."
check out the rest of this post on http://bettercities.net/news-opinion/blogs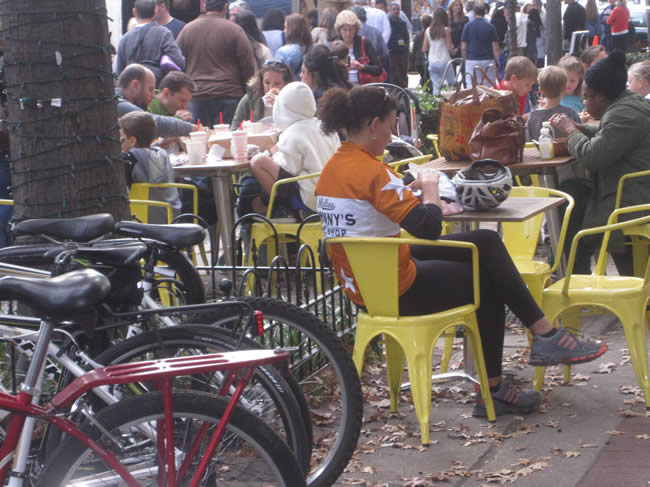 Crosswalks and the Arts
As we proceed, we will share with you items of interest such as this, that inspire our thinking about downtown Bethesda. If you come across any images or articles that you would like to share, please send them to us. This one is from an article from Atlantic Cities on the web. Please note, this type of "art intervention" at an intersection, would require approval of the Montgomery County Department of Transportation and, where a state highway is involved, the State Highway Administration. In addition, the cost of implementation and assumption of maintenance responsibilities would need to be addressed. That being said, what do you think? The full article and more pictures can be seen at http://www.theatlanticcities.com/neighborhoods/2013/12 . Below the zipper crosswalk image is one from Seattle from one of our transportation engineers, that illustrates how varied these designs can be.
Downtown Bethesda as an EcoDistrict?

What is an EcoDistrict? - slides [PDF] - (These are slides from a presentation originally scheduled for May 17, 2014 that will be rescheduled for a future time)
In short, an ecodistrict aims to integrate objectives of sustainable development and reduce an area's ecological footprint by setting ambitious levels of requirements. Each ecodistrict sets its own performance area goals, objectives, and strategies for maximizing sustainability. Most often, goals exceed local regulation and standards.
How can you participate?
In addition to outreach events, beginning November 4, you can schedule a time to meet with staff in our offices in Silver Spring, in Bethesda, or at your own group's meeting. To schedule a time, contact us! We will regularly update the following list to let you know with whom we've been meeting.
Contact
Email: bethesdadowntownplan@montgomeryplanning.org
Twitter: @bethesdaplanner

Elza Hisel-McCoy, Assoc. AIA, LEED-AP, Project Manager 301 495 2115
Questions and to arrange a Meeting with Bethesda Planners
Margaret K. Rifkin, AICP, RLA, Outreach 301 495 4583
Public Meetings & Outreach Activities, Website & Social Media Content

Matt Folden, Transportation 301 495 4538
Tina Schneider, Environment 301 495 2101
John Marcolin, RLA, CNU, LEED-AP, Urban Design 301 495 4547
Last updated: August 1, 2016