The Preservationist Newsletters
The Historic Preservation office is pleased to again be producing The Preservationist newsletter. In the time since we printed and mailed the last issue of the Preservationist in the Fall of 2008 there have been tremendous changes in how people consume information. In response, we are now publishing The Preservationist exclusively in electronic format. Please call 301-563-3400 or click the button below to sign up to receive news about Montgomery County's historic preservation program delivered directly to your inbox.
Sign-up Here: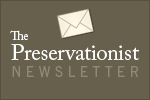 Current Issue
In this issue:

The Preservationist Returns
Historic tax credits increased to 25%
Historic Preservation Research and Designation Coordinator Clare Kelly and Montgomery Modern initiative to receive preservation award
County Council designates a historic theater and church; more under consideration
Historic Preservation Commission meeting
Past Issues
2008 2007 2006 2005 2004 2003 2002 2001
2008
In this issue:
Feature Stories

"Substitute or Replacement Materials"
"Amusement Parks of Montgomery County," co-written by Dan Gaughey, intern at the Montgomery County Historical Society

New and Notes

Staff Changes in Historic Preservation Division
The Boyds Historical Society has a new brochure showing historic sites around its area
In this issue:
Feature Stories

"Design Guidelines to Be Published"
"Green Rehabilitation of Historic Buildings"

News and Notes

Montgomery County Celebrates Heritage Days
Montgomery County Preservation Awards
Maryland Preservation Awards
In this issue:
Feature Stories

"The Resurrection of Higgins Tavern
"Department of Energy Building Deemed Eligible for National Register"

News and Notes

Montgomery Preservation, Inc. 2008 Preservation Awards – announcement of the 22nd annual Montgomery County Awards for E xcellence in landscape and resource preservation, restoration, new construction, and achievement in heritage leadership.
Lyttonsville Exhibit. A spotlight on the historic African-American community of Lyttonsville.
c.. New Stop: Silver Spring. An hour-long video documentary about the saving and restoration of the 1945 Silver Spring train station.
In this issue:
Feature Stories

"Gwen Marcus Wright Shares Oral History Covering 20 Years of County Preservation"
"2008 Preservation Grants Winners Announced"

News and Notes

Beall-Dawson House is the featured public historic site.
Falkland Apartments Designation Approved by Planning Board
Clare Lise Kelly, Historic Preservation Planner, appears on County Cable's TV show, Montgomery Plans.
2nd annual History Volunteer Conference, January 26
2007
In this issue:
Feature Stories

"Cemeteries: Keeping the Past Alive," by Susan Soderberg
"Fire Protection and Historic Resources," by Timothy Duffy, Historic Preservation Commissioner

New and Notes

Featured Pubic Historic Site: Hyattstown Mill
Celebration of Emancipation of Slaves in Maryland on Nov. 3
Scott Whipple becomes the new supervisor of the Montgomery County Historic Preservation Office

In this Issue
Feature Stories

"20th Century Silver Spring Buildings Being Considered for Designation," by Jerry McCoy, President of the Silver Spring Society
"Fire Safety in Older Buildings"
"Montgomery County Preservation Awards"

News and Notes

Montgomery County Heritage Days. Montgomery County's summer heritage celebration at 42 historic sites, featuring music, food and regional culture. New attractions: White's Ferry near Poolesville and Jupiter Radio Astronomy Discovery Site in McKee-Beshers Wildlife Reserve, Seneca
Announcement of the Montgomery County's 231st birthday
Outreach to enhance Historic Preservation Web page begins in July
Announcement of available 2008 Historic Preservation grants
In this issue
Feature stories

"Former Town Hall Soon to Become Poolesville Museum"
"Do I Need a Permit?"

News and Notes

Announcement of the 2007 Historic Preservation Awards ceremony
Montgomery County Heritage Days: June 23 and 24
The Maryland Inventory of Historic Properties forms available online
Local Expertise Sought for Uncle Tom's Cabin/The Riley's House
Montgomery County Departments of Parks Archaeology staff announces summer workshops
In this issue
Feature Stories

"Health Care for Historic Buildings"
Announcement of the "Historic Preservation Commission Awards 2007" grants
Announcement of "Preservation Tax Credits" application

News and Notes

Montgomery County Historical Society's First Annual History Volunteer Conference Sells Out
Montgomery County Departments of Planning, Historic Preservation Section sponsors two programs in conjunction with Black History Month
Call for volunteers at Historic Sites: Bussard Farmhouse, Oakley Cabin and the Underground Railroad Experience Trail
Montgomery Preservation Inc. Invites Nominations for 2007 Preservation Awards


2006
In this issue
Feature Stories

"Blockhouse Point Conservation Park and the Camp at Muddy Branch," by Don Housley, Vivian Eicke and James Sorensen
"The Jesup Blair House and the Underground Railroad"

News and Notes

Montgomery County Heritage Days Celebration. New attractions include: Boyd Negro School, Clarksburg 2-Room School and the Latvian Museum in Rockville
Montgomery County Celebrates its 230 birthday
Announcement of the 2007 Historic Preservation grants

In this issue
Feature Stories

"Comprehensive Strategic Plan Approved for Cultural Resources on Parkland"
"M-NCPPC Purchases Historic Buildings: Uncle Tom's Cabin/Riley Home in Bethesda, Brainard Warner Property (Circle Manor) in Kensington

News & Notes

Planning Board Forwards COMSAT Laboratories Building Nomination to Council
Announcement of the 2006 Montgomery County Preservation Awards
Somerset Celebrates Its Centennial Year
Maryland Issues New Underground Railroad Sites and Programs brochures
In this issue
Feature Stories

"Tax Credits Can Save You $$$!"
"Historic Preservation Commission Awards 2006 Grants"

News and Notes

New Book: Jerry A. McCoy's Historic Silver Spring (Arcadia Publishing)
Montgomery County Department of Parks and Planning and the Montgomery County Historical Society co-sponsors Black History Month Programs
Announcement of the Preservation Awards Nominations
Bussard Farmhouse at the Agricultural Historic Farm Park in Derwood Restoration Near Completion


2005
In this issue
Feature Stories

"Celebrate Rural Montgomery On the 25th Anniversary of the Agricultural Reserve," by Melanie Choukas-Bradley
"Historic Renewal in Boyds"

News and Notes

Barns of Montgomery County Note Cards and Poster Available
Maryland Celebrates the Emancipation of Slaves on Nov. 5
Davis Mill Historic Marker Ceremony on Oct. 15
Montgomery County Celebrates its 229th Birthday
The Historic Preservation Commission Participates in "Magical Montgomery" street fair

In this issue
Feature Stories

"8th Annual Montgomery County Heritage Days: Discover 'History Where You Least Expect It'"
"A Walk With History"

Notes and News

Preservation Easement Donated to the Bennett-Allnut House at 2208 Spencerville Road
Montgomery County Celebrates its 299th Birthday
Peerless Rockville Completes its "Disaster Plans"
In this issue
Feature Stories

"Montgomery County and 1755: A War, a Tavern and a Park"
"Two Districts in Montgomery County Listed in National Historic Register"

News and Notes

Announcement of the Montgomery County Preservation, Inc. 2005 Preservation Awards Ceremony
Traveling Exhibit on Segregation and Integration in Rockville to Commemorate the 50th Anniversary of Brown v. Topeka Board of Education
Montgomery County Celebrates "Heritage Days"
M-NCPPC Archaeology Summer Workshops Begins in July
In this issue
Feature Stories

"Money for Maintenance: Time to Apply for Tax Credits
Kensington Cabin to be Restored

News and Notes

Grand Opening of the Restored Smithville Rosenwald School
Docent Training for Oakley Cabin
Invitation for the 2005 Montgomery County Preservation Award nominations
Heritage Tourism Alliance of Montgomery County Publishes a new Brochure
2004
In this issue
Features Stories

"Good Stewardship Has Its Benefits: Time to Apply for Tax Credits"
"The Future of the Past: The Development of the National Park Seminary"

News and Notes

Historic Preservation Announces Black History Month Programs
Rachel Carson House Grand Opening
Call for 2004 Preservation Awards nominees
2003
In this issue
Feature Stories

"Historic Preservation Ordinance Dealing with Record of Violations"
"2004 Historic Preservation Grants Awards"

News and Notes

Montgomery County Celebrates its 227th Birthday
Historic Preservation Commission Participates in "Magic Montgomery" grand street fair
In this issue
Feature Stories

"Recalling the Past: Camp Meetings," by Joel Lampl
"Meet Our New Commissioners: Nuray Anahtar, Lee Burstyn, Jef Fuller"
"2003 Historic Preservation Grants Available"

News and Notes

Highlights from the Montgomery Preservation, Inc. Preservation Awards
New Historic Markers for Veirs Mill and Newmantown
Montgomery County Heritage Days a Big Success
Montgomery County Celebrates its 226th Birthday
In this issue
Feature Stories

"Montgomery County Heritage Area"
"Historic American Engineering Road (HAER) Documentation of the Canada Dry Bottling Plant"

News and Notes

Celebration of the Metropolitan Branch of the Baltimore & Ohio Railroad's 130th Anniversary
Montgomery County Heritage Days
2002 Preservation Awards Ceremony
Montgomery Preservation, Inc. Launches New Web Site
Preservation Conference
In this issue
Feature Stories

"Get Credit For Your Hard Work: Time to Apply for 2003 Tax Credits"
"Julius Rosenwald and the Rosenwald Fund"

News and Notes

Announcement of Black History Month Programs
Maryland-National Capital Parks and Planning Commission Acquires Red Door Store
Call for Preservation Award Nominees
2002
In this issue
Feature Stories

"Modernism Symposium Set for February"
"2003" Historic Preservation Grants Awarded"

2. News and Notes

Maryland Emancipation Day
Montgomery County Celebrates its 226 Birthday
The Historic Preservation Commission Participates in "Magical Montgomery" county-wide festival
Gaithersburg: History of a City (Arcadia) Published
2001
In this issue
Feature Stories

"Hot Off the Press: Illustrated History of County Historic Sites: Places from the Past"
"2002 Historic Preservation Grants" winners

News and Notes

Maryland Emancipation Weekend
Montgomery County Celebrates its Birthday
New Maryland Building Rehabilitation "Smart Codes"
In this issue
Feature Stories

"To HAWP or Not to HAWP, That is the Question"
"Montgomery County History Tour"
"2002 Historic Preservation Grants"

News and Notes

The 2001 Montgomery County Awards for Historic Preservation
Ten Most Endangered Sites
Oakley Cabin Trail Cleared
In this issue
Feature Stories

"Waters House Partnership and Heritage Tourism Initiative: Preservation Milestones Celebrated"
"Meet Our New Commissioners: Julia O'Malley and Kimberly Prothro Williams"

News and Notes

Preservation Month Activities
Jane Sween to Be Honored
Marker at Capital Crescent Trail
Opening of Seneca Creek Greenway
Local Students Win Archaeology Month Poster Contest
Archaeology Summer Workshops Begins in July
In the issue
Feature Stories

"Time to Apply for 2001 Tax Credits"
"Insuring Replacement Value for Your Historic Home"
"George Kousoulas Says Goodbye to Historic Preservation Commission"

2. News and Notes

Montgomery Preservation, Inc. Invites Nominations for 2001 Preservation Awards
Black History Month Series To be Held in Historic African-American Churches
Polychrome Houses to be Featured in Symposium