Streamlining the Development Review process
Today's process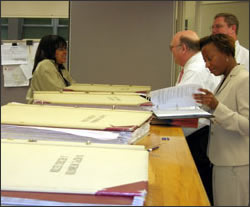 Montgomery County's development review process brings together staff from many agencies, utility companies and private entities, each representing a different perspective. Trying to mesh so many complex and often conflicting regulations can delay the development review process for months.
Further complicating the process is the fact that many developments require approval of more than one type of plan, which can lengthen the review time even further. Moreover, different reviewers at the varying stages may have differing expectations.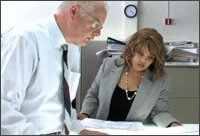 View our

fictional video that sheds light on the current process.
Streamlining options
The Planning Board has asked staff to search for ways to streamline the development review process so applicants who follow planner recommendations and adhere to Planning Board regulations can obtain building permits more quickly.
After analyzing the review process for preliminary plans, project plans and site plans, staff determined that the existing process is redundant and suggested that the Board might:
Consolidate the multiple reviews involved for many projects into a single application
Require a concept plan to be submitted for staff review prior to submission of the application that will be reviewed by the Planning Board
Allow certain details — such as landscaping, lighting and recreation facilities that are now required as part of a site plan — to be reviewed and approved after plats have been recorded
Encourage public input at additional points in the process, such as before and after submission of the concept plan, at meetings organized by the developer, in correspondence or meetings with staff, and at Board meetings
View staff's PowerPoint presentation (1.1 MB).
Advantages/disadvantages
At the concept plan, staff can spell out requirements and expectations for stormwater management, road design, forest conservation and other issues. This will provide an opportunity to resolve conflicts among agencies and others before an actual application is submitted to the Board.
A single application process gives applicants greater certainty about the timeframe and will enable them to go to record plat sooner, which, in turn, will help with project financing.
The streamlined process would reduce two required forest conservation plans to a single plan to be considered by the board, significantly reducing review time without sacrificing the opportunity for input from staff, residents or the Board.
Although application fees for the single application fee may be increased, overall fees should decrease, since multiple plans will not need to be submitted.
One lead reviewer would handle each plan going to the Board, as opposed to various staff leading different stages of plan review.
The workload of the Board would be reduced.
A streamlined process cannot be implemented without extensive changes to the zoning code and subdivision regulations.
The public may perceive that they will have fewer opportunities to be heard, since each plan will only go to the Board once
Developers will have to provide more detail early on, which will increase their initial costs and which cannot be recovered should the Board recommend denial of their plan.
Getting involved
Let us know what you think about our streamlining options.
Contacts
Mark Pfefferle, Division Chief
301-495-4730
mark.pfefferle@montgomeryplanning.org
Sheila Sampson
301-495-2188
sheila.sampson@montgomeryplanning.org