The Zoning Rewrite Project
Planners have rewritten the Zoning Code to modernize antiquated, redundant zoning regulations, and create new tools to help achieve goals in community plans.
New!

Open Houses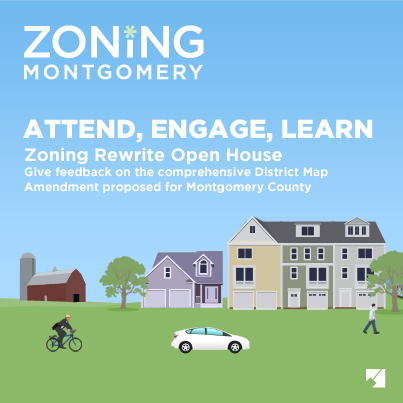 Attend an open house (pdf, 230KB) to continue the dialogue about proposed zoning changes. Staff will be on hand with interactive maps to help answer questions.
Council Approved Zoning Code
(March 5, 2014)
A marked-up version of this document is available here.

County Council Review & Approval
The Council approved the revised zoning code (ZTA 13-04) on March 4, 2014. The revised code becomes effective on October 30, 2014. The Council deferred action on the zoning map (DMA G-956). Review of the zoning map will continue, and the PHED committee will hold worksessions later this year.
Office Hours
Come visit us at the Planning Department and we'll answer questions about the zoning rewrite and how it might affect your property. For more information, contact Matt Johnson at Matt.Johnson@montgomeryplanning.org or 301-495-1325.
Learn More
M-NCPPC Staff Contact
Information about current zoning
Information Counter
301-495-4610
Information about the rewrite project
Pamela Dunn
Pamela.Dunn@montgomeryplanning.org
301-650-5649
Date of last update: April 22, 2014