Reducing our footprint
2009-2011 Montgomery County Growth Policy
The 2009-2011 Growth Policy rethinks how we manage growth, looking beyond basing it just on congestion relief and school capacity. Instead, it focuses on ways to enhance quality of place in our communities.
Council Action, 2009-2011 Growth Policy
2009-2011 Growth Policy Planning Board Draft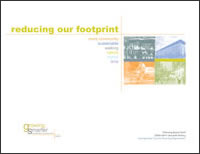 View the 2009-2011 Montgomery County Growth Policy Planning Board draft (pdf, 3.4MB).
For more background, view the draft technical appendices:
FY2010 School Test Results
For the FY2010 school test results click here, or for more information on the school facility payment or the memo to the board.
Learn More
Growing Smarter listening sessions, held May 11 and May 18, sought feedback from the public to inform our recommendations to the Planning Board, which will in turn recommend a 2009-2011 Growth Policy to the County Council later this summer. View our listening session discussion boards.
Watch the March episode of our cable show, Montgomery Plans, featuring Planning Director Rollin Stanley on the 2009-2011 Growth Policy.
Read former Planning Board Chairman Royce Hanson's columnon forming recommendations for the 2009-2011 Growth Policy.
Request a growth policy presentation for your community organization.
Staff Reports
May 28 , 2009
April 30 , 2009

Background (Impact tax issues; analysis of pace & pattern of growth; demand for public facilities)

March 26 , 2009
February 5, 2009 Staff report
Date of last update: June 7, 2010