Purple Line
Design is currently underway for the Purple Line, a proposed 16-mile light rail line with 21 stations, which will run from Bethesda to New Carrollton and provide direct connections to Metrorail, local and inter-city bus, the MARC train and Amtrak. An east-west route connector for Montgomery and Prince George's counties, the Purple Line has been under study since 1992. The Maryland Transit Administration (MTA) is the lead agency for the Purple Line project. On August 5, 2013, Governor Martin O'Malley announced that the Purple Line would be designed, built and operated by a private firm. Ridership forecasts for 2040 exceed 74,000 for a typical weekday. The total estimated capital cost is $2.2 billion.
View the proposed Purple Line full route map.
Purple Line Mandatory Referrals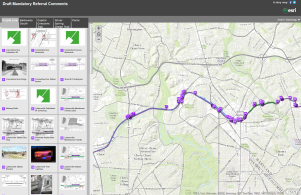 The Montgomery County Planning Board held a public hearing on the mandatory referrals for the Purple Line, the Bethesda Metro Station South Entrance, the Capital Crescent Trail, and the Silver Spring Green Trail on Thursday, March 20, 2014. The Planning Board reviewed the four projects and forwarded comments to the Maryland Transit Administration, the Maryland State Highway Administration, the Montgomery County Department of Transportation, and the Maryland Department of Transportation. In an effort to assure compatibility with communities and businesses along the right of way, many of the recommendations concern ways to improve station access for pedestrians and bicyclists, enhance urban design along the corridor, reduce environmental impacts, mitigate impacts to parkland, and improve transitions along the Capital Crescent Trail.
Purple Line Functional Plan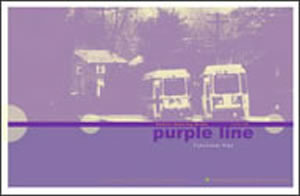 The Purple Line Functional Plan was adopted by the County Council in September of 2010, and includes, a series of recommendations for the proposed transit line's route, mode and stations. Download the approved and adopted Purple Line Functional Plan (pdf, 17MB).
NOTE: The many graphics in the plan result in a download time of about five minutes; consider downloading section 1 (pdf, 9.9MB) and section 2 (pdf, 8.7MB) separately.
Purple Line Related Projects
Project Schedule
Key future milestones, according to the latest project schedule, include the following:
Spring 2014 – Begin Right-of-Way Acquisition
2015 – Begin construction
2020 – Open to service
M-NCPPC staff contacts
Tom Autrey, Transportation Planning
301-495-4533
Thomas.Autrey@montgomeryplanning.org
David Anspacher, Transportation Planning
301-495-2191
David.Anspacher@montgomeryplanning.org
Date of last update: April 21, 2014