Montgomery Plans
2009
To showcase the many ways the Montgomery County Planning Board and professional planning staff enhances the quality of life in our community, we've launched a monthly television program in collaboration with County Cable Montgomery.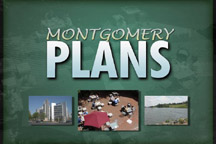 Our program looks at the important land use issues facing those who live and work in Montgomery County, with a focus on the planning side of the Maryland-National Capital Park and Planning Commission. Each month, we'll highlight issues that affect you – smart growth, transportation, forest conservation, environmental protection, historic preservation and more.
In October 2007, Montgomery Plans won a public education award from the Maryland chapter of the American Planning Association.
Montgomery Plans schedule. Also see us on our other educational programs, Growing Right and The Parks Show.
Episodes
A Tour of the Kentlands...and Beyond
Takoma/Langley Crossroads
How to Participate
Housing
Growth Policy 2009-11
The Purple Line
Forests and Trees