Montgomery Plans
2008
To showcase the many ways the Montgomery County Planning Board and professional planning staff enhances the quality of life in our community, we've launched a monthly television program in collaboration with County Cable Montgomery.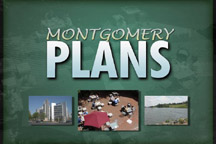 Our program looks at the important land use issues facing those who live and work in Montgomery County, with a focus on the planning side of the Maryland-National Capital Park and Planning Commission. Each month, we'll highlight issues that affect you – smart growth, transportation, forest conservation, environmental protection, historic preservation and more.
In October 2007, Montgomery Plans won a public education award from the Maryland chapter of the American Planning Association.
Montgomery Plans schedule. Also see us on our other educational programs, Growing Right and Parks Show.
Episodes
The Big Idea

The Planning Board has a host of ideas to create new kinds of great places to encourage growth in Montgomery County that truly meets the needs of the 21st century. People are flocking to communities where they can find jobs, housing choices, and great places to hang out. Learn more about how we're designing tomorrow's communities today. Watch
Guest: Royce Hanson, Planning Board Chairman
Date: November/December 2008
Agricultural Reserve

Did you know that Montgomery County still has more than 500 working farms? We'll explain how Montgomery County leaders created the Agricultural Reserve, a crown jewel of good planning practices more than 25 years after it was established. Watch
Guest: Callum Murray, team leader, Community Based Planning
Date: October 2008
Planning Bethesda

Downtown Bethesda... it's vibrant, it's hip, it's fun. But it didn't just happen. Learn the backstory on planning Bethesda. Watch
Guest: Judy Daniel, team leader, Community Based Planning
Date: July-September 2008
Environmental Planning

How do we keep Montgomery County green and, when we plan for new development, growing green? Learn how Montgomery County planners work on environmental conservation. Watch
Guest: Mary Dolan, environmental planning supervisor
Date: June 2008
New Planning Chief

With new leadership comes new energy and new ideas. Learn about how Montgomery County's new planning director will make an imprint on our community. Watch
Guest: Rollin Stanley, Director, Planning Department
Date: April - May 2008
Transportation

Roads, Metro trains, buses, bikes…We explain how Montgomery County planners work hard to keep you moving. Watch
Guest: Dan Hardy, Acting Chief, Transportation Division
Date: March - April 2008
Development Review

Just how does that new cluster of townhouses up the road get built? What about that facelift on your favorite shopping center? Learn more about the development review process in Montgomery County. Watch
Guest: Rose Krasnow, Chief, Development Review Division
Date: February 2008.
Germantown

Planners are working to re-energize Germantown with a vibrant town center, connected neighborhoods, high-tech jobs and access to transit. Learn more about the exciting changes that will transform parts of Germantown into a hub of civic, retail, cultural and living opportunities. Watch
Guest: Sue Edwards, Lead Planner, Germantown Master Plan.
Date: December 2007 - January 2008