Green Space Guidelines
Silver Spring Central Business District
Planners worked with residents and property owners to add more green space and public gathering places to downtown Silver Spring. The guidelines identify potential sites that could provide large green public spaces and outline design principles for how to develop them.
Created at the request of the Planning Board, the guidelines recommend ways to add significant green spaces in Silver Spring -- making it a more livable place and helping to fulfill the Sector Plan's vision for a green downtown.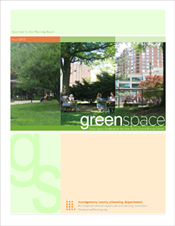 View the Silver Spring Green Space report (5 MB), which recommends some of the following areas as potential green spaces:

Parking lot 3 between Thayer and Silver Spring avenues
Stream valley at the Falklands
Parking lot of Giant Food off East-West Highway
Lots fronting Georgia Avenue in the Ripley District, north of the fire station and south of Ripley Street
View the report appendix.
The guidelines will help the Planning Board when it considers development applications, particularly those guided by the Optional Method of Development, which offers developers more density in exchange for public space and amenities.
Videos
Take an animated tour of the proposed green spaces:
More videos
Background
The Green Space Guidelines evolved from public concern expressed at the 2007 hearing for the Silver Spring Civic Building when numerous members of the community opposed a proposed hardscaped plaza in favor of a large, centrally located green open space.
The guidelines seek to create green spaces amid Silver Spring's hardscape and identify potential sites and principles for their development, including:
identifying a range of successful sizes
creating a sense of enclosure
ensuring visibility
creating connected and active spaces
The plan provides a strategy that will help the Planning Board shape future development in downtown Silver Spring to create the quality of life desired by residents.

M-NCPPC Staff Contacts
Sandra Pereira
301-495-2186
Sandra.Pereira@montgomeryplanning.org
John Marcolin
301-495-4547
John.Marcolin@montgomeryplanning.org

Date of last update: July 30, 2010