Jurisdictions in the Montgomery County, Maryland Region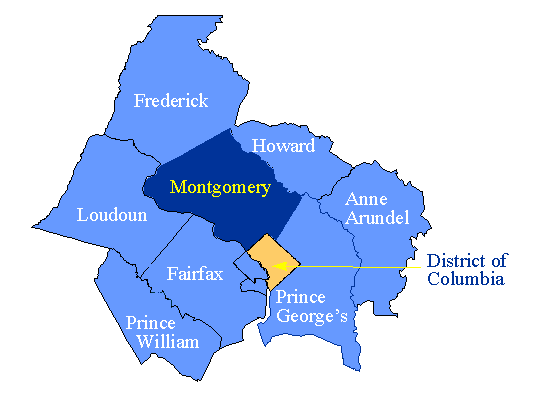 LEGEND
Virginia Jurisdictions
Alexandria City
Arlington County
Fairfax County (includes City of Fairfax and Falls Church)
Loudoun County
Prince William County (includes Manassas and Manassas Park)
Washington, DC
Maryland Jurisdictions
Anne Arundel County
Frederick County
Howard County
Montgomery County
Prince George's County
Source: Montgomery County Planning Department, Research and Technology Center
Geographies
Most data are reported for three geographies:
Jurisdictions in the Montgomery County Region, an area defined by the M-NCPPC Research and Technology Center which includes localities neighboring Montgomery County. The Montgomery County Region is a subset of the localities in the Baltimore-Washington Consolidated Metropolitan Statistical Area as defined by the US Census Bureau.
Montgomery County Planning Areas are subareas of the County whose boundaries were defined decades ago for the purposes of reporting demographic and other data. Because the boundaries of these areas have not changed over time, it is possible to report time series data for these areas. These planning areas should not be confused with Master or Sector Plan boundaries, which may be different.
Montgomery County Policy Areas are subareas of the County defined for the purposes of implementing the County Adequate Public Facilities Ordinance through the Annual Growth Policy (AGP) transportation test. Policy Area boundaries have changed fairly frequently since the first AGP was adopted in 1986 and often time series data are not available at this geography.