Economic Forces That Shape Montgomery County
Detailed Summary - October 1996
NOTE: Click thumbnails to see larger picture
Job Growth
Work Force Characteristics
Availability of Sites for Commercial Development
Commercial Space Characteristics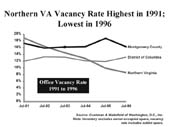 About 70 percent of the major employment space is office. Industrial space accounts for a bit more than 15 percent; flex space accounts for a little less than 15 percent.
About half of Montgomery County's office space is Class A; the rest is B and C space. Of the suburban jurisdictions, only the Arlington/Alexandria market has more B and C than Montgomery County.
In the last seven years, Montgomery County built about half the amount of office space as Fairfax County. About 13 million square feet of office space was built in Montgomery County between 1987 and 1995, compared to 24 million square feet in Fairfax County and 5.3 million in Prince George's County. Almost all of this space was built before 1992. Fairfax's large inventory of vacant space pushed down rents and attracted tenants from around the region.
Montgomery County has led Fairfax and Prince George's in office completions since 1992. Montgomery completed 2.7 million square feet during 1993, 1994 and 1995, while Fairfax completed about 600,000 square feet and Prince George's about 900,000 square feet.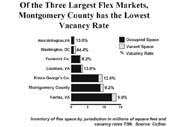 Montgomery County's office vacancy rate is now higher, and its rents now lower, than Fairfax County. However, most of the County's Class A office space, its flex space, and its industrial space have low vacancy rates. Class B/C and other space space accounts for most of the vacancies.
Business Location and Space Preferences
Business Environment: Federal Government Impact