What is SilverPlace?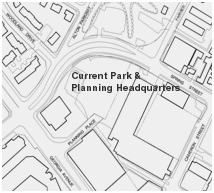 Intended to serve as a center for creative planning, park development and environmental stewardship, SilverPlace will feature a new consolidated headquarters for the staff of the Maryland-National Capital Park and Planning Commission (M-NCPPC) in Montgomery County. As a model of design excellence featuring a mix of uses, SilverPlace also will provide outstanding public spaces, housing, and environmentally sensitive design in the Silver Spring Central Business District.
The SilverPlace plan for the 3.24-acre site, developed in concert with more than 100 participants who attended a week-long series of community design workshops, or charrettes, in June 2008, features a new headquarters, a 300-unit residential development and inviting open spaces such as a public garden populated with mature oak trees.
M-NCPPC staff is working add definition and technical detail to the plan that emerged from the charrette process. SilverPlace will:
Consolidate the park and planning agency to serve the public more efficiently
Create a mixed-use development compatible with the adjacent neighborhoods that serves as a model of design excellence and best development practices
Provide housing to serve a range of incomes including a minimum of 30 percent affordable and median-income housing
Create outstanding indoor and outdoor public spaces for the public
Establish a project that meets or exceeds the Leadership in Energy and Environmental Design (LEED) standards for Gold Certification
Ensure wise transportation management, safe pedestrian circulation, and adequate parking
Reduce public costs for the new Montgomery Regional Headquarters by leveraging the value of the Commission's land
Current Activities
NOTE: Dates approximate and subject to change
County Council Considers Construction Appropriation (Winter 2008-09 - tentative)
The County Council will review the facility plan and design for SilverPlace, and consider providing funding for the final design and construction of the project.
Planning Board Design Review (Winter 2008-09 - tentative)
The Planning Board will review design concepts for SilverPlace.
SilverPlace Community Meeting
M-NCPPC staff will brief the public and answer questions about recent changes in the development process for SilverPlace.
Past Activities
In October 2008, the Planning Board decided to split construction of its proposed SilverPlace headquarters and residential development into phases, first tackling its new office building then selling the remainder of its Silver Spring property for a mix of homes later. The Planning Board and its proposed partner, SilverPlace, LLC, were unable to reach agreement on key financial terms, such as land pricing. Instead, the Commission, through the Department of Parks, will take the SilverPlace project through the same public development review process required of private developers. The Department of Parks will request headquarters funding from the County Council as part of the Capital Improvement Program.
See SilverPlace project history
M-NCPPC Staff Contacts
Dan Hertz
301-495-2588
Daniel.Hertz@mncppc-mc.org
John Carter
301-495-4575
John.Carter@mncppc-mc.org
Date of last update: November 7, 2008