Public Project: Montgomery College-Takoma Park/Silver Spring
Campus Expansion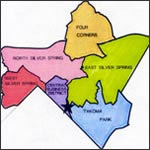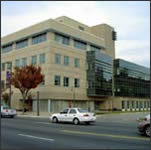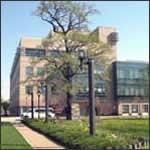 Click the thumbnails for larger picture
Description
In 2005, the Planning Board reviewed the Cafrtiz Street Art Center, which is an adaptive reuse of the former Giant Bakery site. The King Street Art Center will include the following uses are: art education, community artists and organizations, network operations center, central plant and parking in the basement. The project includes a new landscaped plaza and entry facing Jesup Blair Park. A parking garage site is also proposed behind the Cafritz Arts Center, adjacent to the northern edge of Jesup Blair Park next to the railroad tracks.
The College expansion spans both sides of the railroad track near the intersections of Georgia Avenue and Jesup Blair Drive, and Fenton Street and New York Avenue. The college expansion consists of four phases to date: Phase I is the Health Sciences Building on Georgia Avenue (complete), the Pedestrian/Bike Bridge over the railroad tracks (complete) and Fenton Street Realignment (complete). Phase II is the Student Services Center (complete)). Phase III is the Cafritz Arts Center (complete). Phase IV is the Cultural Arts Center (CAC) which is under construction at the southeast corner of Georgia Avenue and Burlington Avenue (MD 410). It will include a 509-seat, two-level theater; a 125-seat studio theater; classrooms; a dance studio; meeting rooms; faculty and staff offices; and various support facilities. See the Montgomery College Website for details.
M-NCPPC Staff Contact
Bill Barron,Team Leader
301-495-4556
Bill.Barron@mncppc-mc.org
Margaret K. Rifkin
301-495-4583
Margaret.Rifkin@mncppc-mc.org
Applicant
Montgomery College
John McLean, Director of Capital Planning, Design and Construction
301-251-7360
jmclean@mc.cc.md.us
Opportunities for Public Participation
The planned Cultural Arts Center was the subject of a public hearing on March 23, 2006. The design of a future garage and interconnecting roadway system within the western campus will be the subject of the next Mandatory Referral application and Planning Board hearing (date to be determined).
Planning Board Review Process & Case Number
Mandatory Referral Case Number 05106-M-1.
Planning Board Actions
The CAC was approved with comments on March 23, 2006.
History of Past Actions
Phase III: Cafritz Arts Center
Approved with comments February 24, 2005
Phase II: Student Services Center
Approved with comments July 10, 2003
Revised bridge connection to Jesup Blair Park and site selection for Cultural Arts Center
Approved February 6, 2003.
Phase I: 70% Bridge Design
Approved with Comments & Conditions, November 1, 2001.
Phase I
Approved with Comments and Conditions, May 31, 2001
Site selection for the Expansion
Approved with comments, June 8, 2000
Notes from M-NCPPC Staff Contact
The College expansion is coordinated with the design and renovation of Jesup Blair Park. The M-NCPPC Project Manager for the Jesup Blair Park Renovation is:
Bob Kane
301-495-2555
Bob.Kane@mncppc-mc.org
Date of last update: September 24, 2009