Public Project: Fenton Gateway Park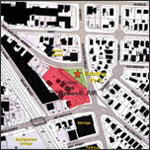 Click thumbnail to see larger picture
Description
The Silver Spring CBD Sector Plan envisions Fenton Gateway Park as a terminus or Gateway to Fenton Village as well as an active urban public space that improves the overall image of community. Land acquisition for Fenton Gateway Park has begun pursuant to the Sector Plan recommendation that the park be expanded through the purchase of land; however, additional funding is required to complete land acquisition and begin facility planning. Ultimately, the expanded park is expected to be about 1.3 acres.
The conceptual design for Fenton Gateway Park that had been prepared by staff included a 14,000 square foot skateboard facility, lighting, new sidewalks and paths, landscape plantings, public art or other focal element, parking and a potential building. A skateboard facility at Fenton Gateway, located in a more visible urban context, would serve both the CBD and neighborhoods surrounding the CBD.
After taking broad public input, the Planning Board decided not to recommend this facility in the next parks Capital Improvements Program (CIP). At this time, the facility has not been specifically included in the CIP. After land acquisition for the expanded park has been completed, a facility plan will be prepared to determine the design of the park and which type of facilities should be included.
Applicant
M-NCPPC.
Opportunities for Public Participation
To be announced: future park facility plan.
Planning Board Review Process & Case Number
Facility plan yet to be filed.
Planning Board Action
None.
Notes From M-NCPPC Staff Contact
M-NCPPC Staff Contact
Bill Barron,Team Leader
301-495-4556
Bill.Barron@mncppc-mc.org
Date of last update: October 12, 2009