Public Project: District Court House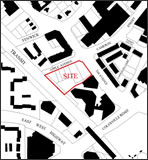 Click thumbnails for larger picture
Description
This is a new District Court House to replace the one currently located on Georgia Avenue. It includes 100,000 square feet and 15 on-site parking spaces for judges and staff. It is next to the CSX railroad line, the Metro Red Line and the future Capital Crescent Trail and Purple Line (Bi-County Transitway). Grand opening: September 22, 2004.
M-NCPPC Staff Contact
Bill Barron,Team Leader
301-495-4556
Bill.Barron@mncppc-mc.org
Applicant
General Services Administration, Barry Miller
410-767-4446
Opportunities for Public Participation
Completed
Planning Board Review Process and Case Number
Mandatory Referral MR-01111-MDGS-1
Planning Board Action
Approved on November 29, 2001
Notes
The staff is evaluating a Purple Line alignment along the tracks next to the court house site.
Date of last update: June 16, 2005