Public Project: Observation Drive Extended
Facility Planning Study – Phase I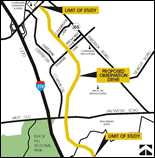 Click thumbnail to see larger picture
Description
This project provides for Facility Planning of Observation Drive from Water Discovery Lane (existing road) in Germantown to approximately one fourth mile south of Stringtown Road in Clarksburg. It will provide the missing segments from Germantown to Clarksburg and will be built by developers. The 1994 Clarksburg Master Plan recommends that Observation Drive (A-19) be a four-lane divided arterial roadway with a minimum 150-foot right-of-way and the incorporation of a transitway. Observation Drive will provide multi-modal access to planned developments and preserve the right-of-way for a proposed transitway.
M-NCPPC Staff Contact
Ki Kim, Transportation Planner Coordinator
301-495-4538
Ki.Kim@mncppc-mc.org
Applicant
Montgomery County Department of Public Works and Transportation
Contact: Uzair Asadullah, Project Manager
240-777-7242
Uzair.Asadullah@montgomerycountymd.gov
Opportunity for Public Participation
Public meetings were held on April 7, 2005 and November 14, 2007 for this project. A "no-built" alternative and two "built" alternatives are currently under consideration.
Planning Board Review Process and Case Number
Not scheduled.
Planning Board Action
Not Available.
Notes from M-NCPPC Staff Contact
Date of last page update: November 19, 2007