Public Project: North County Maintenance Depot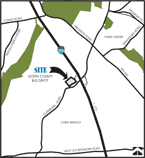 Click thumbnail to see larger picture
Description
The County plans to built a new North County Depot for the Department of Public Works and Transportation (DPWT) Divisions of Transit Services (Ride-One), Fleet Management Services and Highway Maintenance in Clarksburg. The facility will accommodate the planned future growth of the County's transit fleet and will serve as a staging, operations and maintenance center for the three DPWT divisions. It also will accommodate 250 new buses and approximately 90 pieces of heavy-duty vehicles and equipment, provide for their maintenance, and house the divisions' operational and administrative staff. It will complement the existing DPWT facilities at Brookville in Silver Spring and Crabbs Branch Way in Rockville.
M-NCPPC Staff Contact
Thomas Autrey
301-495-4533
Thomas.Autrey@mncppc-mc.org
Applicant
Montgomery County Department of Public Works and Transportation
Staff Contact: Vineet Bhanot, 240-777-7276

Opportunity for Public Participation
The project will be subject to a Planning Board mandatory referral public hearing. A hearing date will be scheduled once the mandatory referral is filed. Written comments to the Planning Board Chairman, staff, and the applicant will be encouraged at that time.
Planning Board Review Process & Case Number
The mandatory referral application has not been filed yet.
Planning Board Action
On November 18, 2004, the Planning Board approved the mandatory referral.
Notes from M-NCPPC Staff Contact
Date of last page update: December 27, 2007