Public Project: I-270/MD 121 Interchange Improvements
Project Planning Study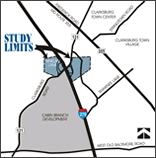 Click thumbnail to see larger picture
Description
The Maryland State Highway Administration (SHA) is conducting a Project Planning Study for improvements to the !-270/MD 121 interchange in Clarksburg. The I-270/MD 121 Interchange Study is a breakout project of the SHA's I-270/US 15 Multi-Modal Corridor Study, which will investigate, develop, and evaluate various improvement alternatives for the I-270/MD 121 interchange. The projects's study area limits are the West Old Baltimore Road underpass to the south; the Ten Mile Creek Tributary crossing to the north; the West Old Baltimore Road and MD 121 intersection to the west; and the northbound to eastbound off-ramp terminus to the east.
M-NCPPC Staff Contact
Ki Kim, Transportation Planning
301-495-4538
Ki.Kim@mncppc-mc.org
Applicant
Mr. Russ Walto, Project Manager
Maryland Department of Transportation
State Highway Administration
Project Planning Division
707 North Calvert Street
Baltimore, MD 21202
410- 545-8547
rwalto@sha.state.md.us

Opportunity for Public Participation
The project was referred for comments to the Clarksburg Civic Association and other groups. A Location/Design Public Hearing was held on January 30, 2007 at Clarksburg High School. In the Spring, there will be a Planning Board presentation and other related briefings. The meetings dates have not been scheduled.
Planning Board Review Process & Case Number
Planning Board Action
Notes from M-NCPPC Staff Contact
None.
Date of last page update: February 13, 2007