Public Project: Clarksburg Village Elementary School No. 1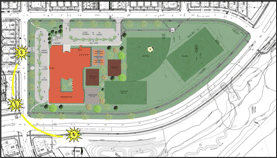 Click thumbnail to see larger picture
Description
Montgomery County Public School is conducting a Feasibility Study for the design of Clarksburg Cluster Elementary School (Clarksburg Village Site No. 1).
The new Clarksburg Village Elementary School No.1 will be located on a 13-acre park/school site located at the intersection of Grand Elm Street and Snowden Farm Parkway in the Clarksburg Village community. The school is needed to relieve Little Bennett Elementary Schools and to serve future development of Clarksburg.
M-NCPPC Staff Contact
Nellie Maskal
301-495-4567
Nellie.Maskal@mncppc-mc.org
Applicant
Montgomery County Public Schools (MCPS)
Division of Construction
Contact: Joseph DeRosa, AIA, Project Manager
240-314-1009
joseph_derosa@mcpsmd.org
Opportunity for Public Participation
The Feasibility Study Committee held two worksession meetings on July 7, 2008 and July 11, 2006 to allow community participation in the process. On July 23, 2008, a community meeting was held on the Feasibility Study at Little Bennett Elementary School.
Planning Board Review Process and Case Number
Coming soon.
Planning Board Action
Coming soon.
Notes from M-NCPPC Staff Contact
Date of last update: August 12, 2008