Private Project: Infrastructure and Roads Only Plan
Cabin Branch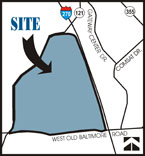 Click thumbnail to see larger picture
Description
This 535-acre property is located at the northwest intersection of West Old Baltimore Road and I-270. The Infrastructure and Roads Plan will determine the widths of the public and private rights-of-way, cross-sections of the proposed roadways, median breaks, intersection spacing and special features within the rights-of-way. It is intended to clearly address major components of a composite plan, including grading, a park and school site for future facilities, a concept recreational facility plan and an overview of the disbursement of MPDUs.
M-NCPPC Staff Contact
Robert Kronenberg
301-495-2187
Robert.Kronenberg@mncppc-mc.org
Applicant
King Farm Partnership LLP
John W. Gosnell
703-893-1221

Adventist HealthCare Inc.
Larry Walker
301-315-3376

FFTM I, Limited Partnership
Chuck Faller
301-231-6356

Crown, Larraine B. et al
Winchester Homes, Inc.
Steve Nardella
301-803-4777

Winchester Homes, Inc.
Tom Bourke
301-803-4901
Opportunity for Public Participation
The Planning Board held a public hearing on the site plan on June 14, 2007.
Planning Board Review Process & Case Number
Site Plan No. 820050150.
Planning Board Action
On June 14, 2007, the Planning Board approved the Infrastructure and Roads Only Site Plan and Final Water Quality Plan to accommodate a maximum of 1,886 residential dwelling units, 500 senior units and 2,436,000 square feet of retail and employment subject to a list of 21 conditions.

Notes from M-NCPPC Staff Contact
Date of last page update: March 26, 2008