Local Area Transportation Review (LATR) and Transportation Policy Area Review (TPAR) Guidelines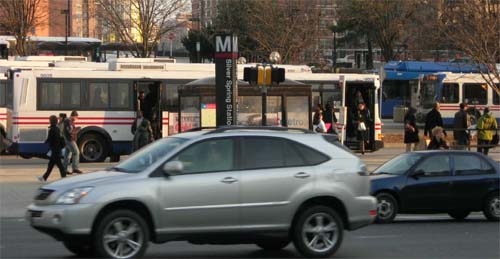 These guidelines are intended to ensure that development in Montgomery County is accompanied by appropriate and sufficient transportation facilities. They are used by the Planning Board and staff to estimate the impacts of development on the transportation network and determine effective ways to mitigate that impact.
Background
In 1973, the County Council adopted an Adequate Public Facilities Ordinance and granted the Planning Board administrative oversight to ensure that adequate public facilities exist to accommodate growth. Since then, Montgomery County has considered the impacts of development on the transportation system, guided by the County Council's Subdivision Staging Policy, which is reviewed on every two years.
The LATR/TPAR document implements the Subdivision Staging Policy, which includes Local Area Transportation Review (LATR) to measure development impacts on local roads near the development site, and Transportation Policy Area Review (TPAR) to address impacts on a wider geographic scale.
TPAR evaluates the adequacy of transportation at a policy area level, measuring the capacity of arterial roads and transit separately. Introducing transit into the analysis supports and measures the success of the County's long-standing policy to focus growth at transit nodes including the Metro Station Policy Areas. The county's multi-modal focus is further supported by the mitigation options in this publication that include enhancements to transit, pedestrian, and bicycle facilities.
Guidelines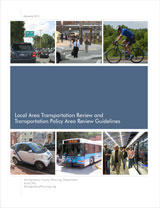 The Planning Board adopted new LATR/TPAR guidelines in January 2013. The Board requested some additions and changes to that report and the final LATR/TPAR guidelines (3.7 MB) were published in March 2013.
The guidelines were developed based on standards and practices developed by the Institute of Transportation Engineers and the Transportation Research Board. Those best practices have been adapted to Montgomery County, based on research into local conditions.
Montgomery County Traffic Study Scoping Form Traffic Study Scoping Form Release
Past documents
2007 Draft LATR and PAMR Guidelines
2004 Approved and Adopted LATR Guidelines
Electronic Submission of Traffic Counts - Procedures and File Format (1.5 MB)
Digital Traffic Count Template File (xls)
Table of Intersection ID Numbers (xls)
Map 1: LATR Standards by Policy Area
Map 2: PAMR Trip Mitigation Requirements by Policy Area
Staff Contact
Eric Graye, Functional Planning & Policy Division
301-495-4632
Eric.Graye@montgomeryplanning.org
Send submissions of or requests for traffic counts for LATR to MCP-trafficcounts@mncppc-mc.org.
Date of last update: March 27, 2013