Highways
This webpage displays all of the master-planned highways in an interactive map and contains links to relevant master plans.
What's New!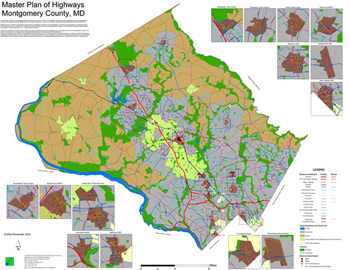 2016 Master Plan of Highways and Transitways
Transportation planners are reviewing and revising the county's Master Plan of Highways and Transitways, an effort that classifies each Montgomery County road in the transportation network, in the first comprehensive update to the plan since 1955. The plan will update the road network with current classifications, incorporate road changes, and align it with the County Road Code, which was comprehensively updated in 2007. The update will consolidate all roadway amendments that have been approved as part of Master Plans as well as limited functional Master Plan of Highways amendments. The new plan will also include transitways, rail stations, and other transit centers.

Find a Highway
Use our interactive map tool to see existing and planned highways in Montgomery County. Click here for the full screen version.
Road Code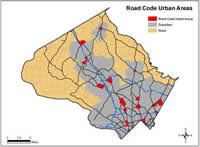 Road Code standards are applied according to the Rural, Suburban, and Urban designations that have been adopted by the County Council.
2014 Mobility Assessment Report
The latest Mobility Assessment Report (pdf, 19MB) is now available. The 2014 Mobility Assessment Report (MAR) was presented to the Planning Board on April 17. The presentation can be seen here [PDF]. Montgomery County's traffic congestion has been stabilizing over the past two reporting periods from 2009-2011 and from 2011-2013 according to the 2014 MAR, a biennial study by county transportation planners that monitors local transportation trends. To read the report, click here [PDF]." See past reports.
MidCounty Highway

The Midcounty Highway (M-83) was first included in Montgomery County's Master Plan of Highways in the 1960s and is planned to extend from Ridge Road (MD 27) in Clarksburg to Redland Road in Derwood as an 8.7-mile, controlled access, four to six-lane major highway. Over the years, a three mile segment of Midcounty Highway was constructed, between Shady Grove Road and Montgomery Village Avenue. On November 21, 2013, following publication of MCDOT's May 2013 Draft Environmental Effects Report, the Planning Board received a briefing by MNCPPC staff and Department of Transportation staff and heard public testimony. As a result of the November 21, 2013 briefing and testimony, the Planning Board issued a letter to MCDOT supporting Alternative 9A, the Master Plan Alignment. Additional information on this project is available on the MCDOT project website.
Base Realignment and Closure (BRAC)/National Naval Medical Center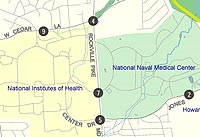 The National Naval Medical Center in Bethesda is undergoing expansion as part of the federal Base Realignment and Closure (BRAC) process. State and county transportation agencies are undertaking nine transportation studies and projects to alleviate the impact of the medical center expansion. Learn more
2004 An Amendment to the Master Plan of Highways (Transportation) within Montgomery County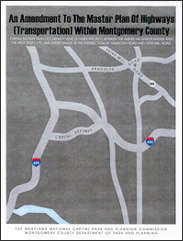 This amendment to the master plan documents the need for: 1) High-occupancy vehicle lanes on the Capital Beltway (I-495) between the American Legion Bridge and the I-270 West Spur and, 2) a grade-separated interchange where Randolph Road and Veirs Mill Road (MD 586) intersect.
M-NCPPC Staff Contact
Larry Cole
Functional Planning and Policy Division
larry.cole@montgomeryplanning.org
301-495-4528
Date of last update: January 20, 2015