A Step-by-Step Guide: Step 3
Historic Area Work Permits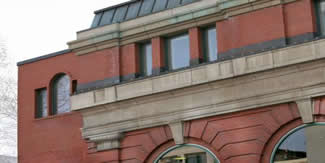 Step 3: Filing the Historic Area Work Permit Application Form
If your proposed work does require a Historic Area Work Permit (HAWP), you must apply for a HAWP before applying for a Building Permit. HAWP applications must be submitted to and procesed by The Department of Permitting Services (DPS). Your HAWP application requires the approval of the Montgomery County Historic Preservation Commission (HPC). The Historic Preservation Office is staffed by Preservation Planners who work for M-NCPPC, and you are encouraged to discuss proposals for major work with the staff before filing a HAWP to ensure a smooth process. For information or to make an appointment, call 301-563-3400.
To have your HAWP considered at the next HPC meeting, the firm deadline for filing a HAWP is the Wednesday three weeks prior to each meeting. HPC public meetings are typically held on the second and fourth Wednesdays of each month, and you may view a list of meeting dates for the remainder of the year here to plan your application accordingly.
Please read the instructions below and return your HAWP application form to the Information Counter at the Montgomery County office of the The Department of Permitting Services in Rockville, Maryland, located on the second floor of 255 Rockville Pike. If you have any questions about how to complete the form, please feel free to call us at 301-563--3400.
REMINDER: Many local government offices may need to review your proposed changes before you apply for a HAWP including, but not limited to, Brookeville, Chevy Chase Village, Garrett Park, Kensington, Somerset , and Takoma Park. If applicable, please check with your municipality before applying for a HAWP.

Instructions for filing a HAWP Application (pdf)
Historic Area Work Permit Application (pdf)
Proceed to Step 4 to learn what happens to your HAWP application form after you file it.