Accessory Apartments
Proposed Zoning Text Amendment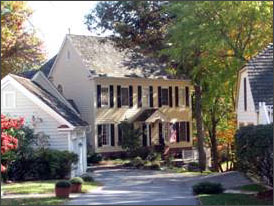 As Montgomery County housing costs continue to increase, the rental market is becoming increasingly attractive to people who cannot afford to buy a home or don't want to maintain one. Among their housing choices: accessory apartments built within homes or on single-family properties.
Planners have proposed new regulations for accessory apartments. Homeowners who want to add an accessory apartment apply for a special exception from the county Board of Appeals. In most cases, special exceptions for accessory apartments are granted.
The proposed regulations, a Zoning Text Amendment (ZTA) to be considered by the Planning Board and the County Council, would allow a small, attached accessory apartment to be licensed and approved without the time or expense required by the special exception process. Planners propose to better define the units, allow them by right in some zones, and limit accessory apartments of a certain size or to avoid overcrowding neighborhoods.
Let us know what you think using our comment board.
Background
In the 1980s, county policymakers established accessory apartment provisions to provide more affordable housing for county residents. They also wanted to create options for family members, such as seniors, to stay in their homes with caregivers or by supplementing income with a rental unit.
Accessory apartments expand the supply of affordable rental housing without county subsidies. Since accessory apartments are scattered throughout neighborhoods, they provide affordable housing that is well integrated in communities.
Accessory apartments, now granted through special exceptions, undergo little scrutiny. The special exception process, designed to address concerns about maintaining neighborhood quality and concerns about parking, typically are approved.
Zoning Text Amendment
The ZTA would allow accessory apartments by right in certain zones based on the size of the unit, but would restrict them in smaller-lot zones if they exceed a certain size. The ZTA would clarify what is permitted and where.
The proposed ZTA establishes certain standards and requirements standards under which a special exception for an accessory apartment would be granted. It restricts the maximum number of occupants and establishes a spacing requirement to limit the number of accessory units, regardless of size, that can be constructed within a neighborhood.
The proposal will go the Planning Board for review, then to the County Council for consideration.
The proposed Zoning Text Amendment:
Modifies the current accessory apartment requirements by distinguishing between an attached and detached accessory apartment, defines these terms and establishes separate requirements and standards for each.
Allows by right, with certain standards and requirements, an attached accessory apartment with a floor area up to 1,200 square feet in the larger lot one-family residential zones (RE-2C, RE-2, RE-1, RMH-200, R-200 and R-150 zones) and many of the agricultural zones (Rural, RC, LDRC, and RDT zones)
Allows by right an attached accessory apartment with a floor area up to 800 square feet to be located in the R-60 and R-90 zones and in the RNC zone.
Requires special exception approval in the R-60, R-90 and RNC zones for an attached accessory apartment with a floor area greater than 800 square feet.
Allows a detached accessory apartment by right only in the RE-2C, RE-2, and RE-1 zones.
Does not allow a detached accessory apartment with a floor area greater than 800 square feet in the R-60, R-90 and RNC zones.
Sets the maximum floor area for an accessory apartment at 1,200 square feet
Project schedule
Upcoming
County Council to consider draft ZTA
Past
June 21, 2012: Planners presented the draft ZTA to the Planning Board, which voted to transmit it with conditions to the County Council
May 21, 2012
Planners held two community meetings about the proposed ZTA on accessory apartments. The sessions provided residents an opportunity to receive information on current and proposed accessory apartment regulations and provide feedback.
May 3, 2012: Planners presented the draft ZTA to the Planning Board
View the presentation (pdf, 268KB)

Staff Contact
Gregory Russ, Planner Coordinator
301-495-2174
Gregory.Russ@montgomeryplanning.org
Date of last update: June 27, 2012