Commercial Residential Zones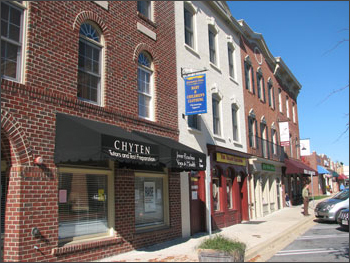 The County Council has adopted a set of Commercial Residential (CR) zones to encourage a variety of uses in some of the county's commercial areas. The CR Zones are designed to allow a mix of commercial and residential, create interactive streets, provide public space, and foster jobs and services where people can live, work, shop and play within a given neighborhood.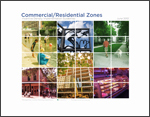 View the Commercial/Residential Zone Guidelines (pdf, 12MB), updated October 2015.
Most of the county's existing and emerging commercial zoning now allows only commercial uses, which are active during the day but vacant at night. Commercial-only zoning frequently results in unattractive streetscapes, minimal public spaces, and are accessible only by car.
The new zones are intended to create more living opportunities in commercial areas. When located near commercial opportunities, residents will support local businesses and counter sprawl . A great advantage of the CR zones is that they encourage public benefits, such as well-designed open spaces and strategies to retain small, neighborhood-oriented businesses.
The following CR classifications have been approved by the County Council:
CR Neighborhood (CRN)
CR Town (CRT)
CR
The family of zones allows for a range of densities and heights – as low as 0.5 floor area ratio (FAR), near single-family neighborhoods, to 8.0 FAR, which may be used in areas with direct access to Metro Stations such as our Central Business Districts. Within this range, master plans use the flexibility of the zones to ensure that development fits within the context of each community. Once mapped with specific density and height limitations, the zone provides certainty for residents about the type of development they can expect.Any zone must be designated on the official zoning map approved by the County Council.
View this overview (1.8 MB) of the Commercial Residential Zones.
Actions
Background
In 2009, the County Council approved CR zoning for the Great Seneca Science Center and White Flint Master Plans.
Planners also prepared master plans for the Town of Kensington, Takoma Langley Crossroads and Wheaton that recommend CR zoning. As part of public consideration of those draft plans, with extensive discussion with community constituents, planners were asked to refine the uses allowed in the zone and the public benefits required.
Of particular focus was what to allow along the edges of a mixed-use area, the interface with surrounding neighborhoods and how to encourage redevelopment of small, lower-density sites.
By creating CR zoning classifications for neighborhood, town, and metro settings, the zones offer:
ways to soften the transition between mixed-use and residential areas
address concerns about the proximity of some uses to single-family residential properties
create rules for parking and drive-through design
For example, more intense uses are prohibited or require a public review process to mitigate impacts with increased setbacks, screening, or noise/light abatement. In addition, public benefit requirements are adjusted for small properties and lower density areas to address concerns about revitalization and redevelopment in particular areas.
It is important to note that the CR zones do not allow for bonus floor area. In the CR and CRT zones, an upper limit for density is set by the zoning map and developers must provide public benefits to be allowed to develop to that limit.
| CR zone | Intent | Density & Height | Context |
| --- | --- | --- | --- |
| CR Neighborhood | Allows services commonly used by neighborhood residents; requires buffering for certain moderately intense uses; and prohibits uses deemed too intense | Limited to between 0.5 and 1.5 FAR and 25'-65' height | Transitional edges, small neighborhood centers |
| CR Town | Flexible uses – some restrictions on commercial and flexible residential; site plan for some standard method; and sketch plan and public benefits up to 50 points required for optional method | Limited to between 0.5 and 4.0 FAR and to 150' height | Town centers, appropriate edge conditions |
| CR | Flexible residential and commercial uses; site plan for some standard method; and sketch plan and public benefits up to 100 points required for optional method. | Limited to between 0.5 and 8.0 FAR and 40'-300' height | Town and urban centers with transit access and a variety of housing, services, and amenities |
CRN zones
These low-density, mixed-use zones don't allow enough density to offset requirements for public benefits. Although public review may be required in many cases, additional public benefits are not required to develop in these zones.
CRT and CR zones
These allow two tracks for developers:
Standard: allows builders to develop at lesser densities
Optional: offers a range of incentives in exchange for full density. Optional method projects require an extra public plan review.
CR zones tie uses, density, and height together, providing greater predictability as to what can be built and how property can be used. Height and density recommendations will be developed with community input during the master planning process, then the zoning will specify those recommended densities and heights. These tools offer a more fine-grained approach to bring the community vision to reality.
Developers who want to build under the optional method of development will present a menu of public benefits that will be graded under a point system and analyzed for their ability to achieve master plan priorities. In return for the public benefits, they will be allowed to build to the density and height shown on the zoning map. Developers earn points based on a list of amenities, such as:
Proximity to transit
Location near retail establishments
Creating safe and attractive pedestrian connections between streets
Public parking
Building lot terminations (BLT) to protect agricultural land
Affordable housing
Enhanced accessibility for the disabled
Historic resource protection
Public art
Public open space
Exceptional building design
M-NCPPC Staff Contact
Mike Bello
301-495-4597
Michael.Bello@montgomeryplanning.org
Date of last update: November 5, 2015