Get involved
Wheaton CBD and Vicinity Sector Plan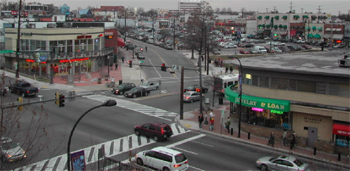 The Wheaton Central Business District and Vicinity Sector Plan Amendment will be developed with full participation of the community and other stakeholders using resources such as three-dimensional modeling and illustrative concept plans to convey technical information in an easily understandable way for all participants.
In lieu of a master plan advisory group, the project team will use the experience and expertise of the two existing advisory committees associated with the Mid-County Regional Services Center — the Wheaton Urban District Advisory committee (WUDAC) and the Wheaton Redevelopment Advisory Committee (WRAC). WUDAC and WRAC have formed a joint working group that includes representatives from the Wheaton Citizens Coalition (WCC) and community members who are committed to monthly attendance as non-voting members. The work group's recommendations will be presented to the full membership of WUDAC and WRAC for deliberation and recommendations. All of their meetings are open to the public.
In addition to these committees, staff will host community meetings, post information on the agency's website, and contact the community via email. The Mid-County Service Center, the Wheaton Regional Library, and community locations such as grocery stores and area businesses will also have materials. Staff will meet with individual property owners, business people, developers, and umbrella organizations. Staff will work with the Business Redevelopment Manager at the Mid-County Services Center to build on existing small business programs and to establish relationships with Wheaton's diverse small business community.
Community Meetings
At a kick-off meeting on April 30, 2008, staff discussed why the plan is being done, development since 1990, major issues in the Sector Plan area, the existing planning framework, the plan's role in the development process, and the project schedule.
On June 4, 2008, staff briefed County agencies about the master plan work program, including an overview of Wheaton's planning issues, schedule, and how staff will work with the agencies throughout the planning process.
Throughout the summer of 2008, staff continued to meet with WUDAC, WRAC, WCC, and the joint work group to discuss ongoing work and planning concepts such as sustainability, market data, and land use practices.
The Planning Board approved the Scope of Work on September 4, 2008
On September 24, 2008, Staff conducted a visioning workshop with the community.
In December of 2008, staff received community input for a preferred development scenario that will be refined into preliminary recommendations.
In February of 2009, staff received community input on preliminary recommendations.
On September 21, 2009, staff presented the draft preliminary recommendations.
M-NCPPC Staff Contact
Sandy Tallant, Community Based Planning
301-495-1329
Sandra.Tallant@mncppc-mc.org
Date of last update: September 2, 2009