Private Project: Discovery Communications World Headquarters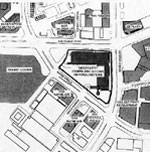 Click thumbnails for larger picture
Description
This project is located on the 3.4 acre "Silver Triangle" formed by Georgia Avenue, Colesville Road and Wayne Avenue in the core of the Silver Spring Central Business District (CBD). As amended, the project includes 545,420 square feet of office development. The sole occupant is the headquarters of Discovery Communications. The building is L-shaped: the Colesville Road wing is ten stories and the Georgia Avenue wing is seven stories. Two public open spaces are provided: Discovery Garden and the Discovery Plaza near Georgia/Wayne Avenues. An art wall is provided along Colesville Road.
Discovery has proposed an amendment to the approved site plan that would convert approximately 4500 square feet of Public Use Space (and 9296 square feet of office space) to a private day care center for the children of Discovery employees.
M-NCPPC Staff Contact
Sandra Pereira
301-495-2186
Sandra.Pereira@mncppc-mc.org
Applicant
Discovery Communications, Inc.
Ms. Barbara Henry
240-662-3714
Opportunities for Public Participation
The Planning Board may conduct a public hearing on the site plan amendment for the proposed day care center.
Planning Board Review Process and Case Numbers
Project Plan - #9-90002A (approved); Site Plan - #8-00032A (pending).
Planning Board Action
The project plan and the original site plan were approved on July 19, 2001. No action to date regarding the site plan amendment.
Notes from M-NCPPC Staff Contacts
Date of last page update: January 25, 2008