Private Project: Tapestry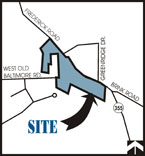 Click thumbnail to see larger picture
Description
This 38.82-acre property is located on Frederick Road (MD 355) at the northwest and southwest intersection with West Old Baltimore Road. The proposed development consists of 80 residential dwelling units, including 12 Moderately Priced Dwelling Units (MPDUs). The mix of units includes 66 one-family detached units and 12 duplex units.
M-NCPPC Staff Contact
Robert Kronenberg, Site Plan Supervisor
301-495-2187
Robert.Kronenberg@mncppc-mc.org
Richard Weaver, Planner Coordinator
301-495-4544
Richard.Weaver@montgomeryplanning.org
Applicant
Miller and Smith at Tapestry, LLC
8401 Greensboro Drive, Suite 330
McLean, Virginia 22102
Bill Roberts
703-821-2500
Opportunity for Public Participation
The Planning Board will continue the public hearing of July 26, 2007 on the preliminary plan and site plan. The hearing date for the plans have not been scheduled.
Planning Board Review Process & Case Number
Preliminary Plan No. 120050950 and Site Plan No.
Planning Board Action
On July 26, 2007, the Planning Board held a public hearing on the preliminary plan and recommended a continuance with both the preliminary and site plan to be reviewed on the same day. View Staff Report.
Notes from M-NCPPC Staff Contact
Date of last update: May 6, 2008