Private Project: Eastside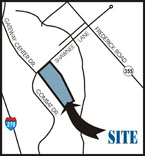 Click thumbnail to see larger picture
Description
This 23.82-acre property is located on Shawnee Lane, east of Gateway Center Drive. The proposed development will consist of 265 residential dwelling units, including 34 Moderately Priced Dwelling Units (MPDUs).
M-NCPPC Staff Contacts
Piera Weiss
301-495-4728,
Piera.Weiss@mncppc-mc.org

Dolores Kinney
301-495-1321,
Dolores.Kinney@mncppc-mc.org
Applicant
Miller and Smith at Eastside, LLC
8401 Greensboro Drive, Suite 300
McLean, Virginia 22102
Robert Spalding
703-821-2500
Opportunity for Public Participation
Completed.
Planning Board Review Process & Case Number
Preliminary Plan No. 120051010 and Site Plan No. 820050380.

Planning Board Action
The Preliminary Plan (120051010) was approved on June 22, 2006.
On February 8, 2007, the Planning Board approved the Site Plan.
Notes from M-NCPPC Staff Contact
Date of last update: February 9, 2007