Private Project: Winchester Homes Phase 1
Cabin Branch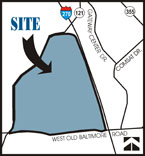 Click thumbnail to see larger picture
Description
This 108.6-acre property is located at the southern quadrant of the intersection with MD 121 and I-270 approximately a quarter of a mile west of I-270. The proposed development consists of 428 residential dwelling units, including 64 MPDUs, a local park, and an elementary school.
M-NCPPC Staff Contact
Robert Kronenberg
301-495-2187
Robert.Kronenberg@mncppc-mc.org
Applicant
Cabin Branch Management c/o Winchester Homes, Inc.
Stan Aldridge
6905 Rockledge Drive, Suite 800
Bethesda, MD 20817
301-803-4800
Opportunity for Public Participation
Complete.
Planning Board Review Process & Case Number
Site Plan No. 820060290.
Planning Board Action
The Preliminary Plan for Phase 1 (12003110A) was approved on June 3, 2004. The Infrastructure and Roads Only Site Plan was approved on June 14, 2007 to accommodate a maximum of 1,886 residential dwelling units, 500 senior units, and 2.4 million square feet of retail and employment uses. The Planning Board approved the Preliminary Plan for Phase II (12003110B) on April 3, 2008 to accommodate an additional 286 residential units and 822,000 square feet of non-residential uses.
On June 19, 2008, the Planning Board approved the site plan for 428 residential dwelling units, consisting of 150 one-family detached, 182 one-family attached, and 96 two-over-two multi-family units, including 64 MPDUs and 128 TDRs, as well as a local park and future school site, in the MXPD and RMX-1/TDR Zone. The Planning Board also approved the Cabin Branch Design Guidelines. Click here for Staff Report.
Notes from M-NCPPC Staff Contact
Date of last update: June 20, 2008