Private Project: Gosnell
Cabin Branch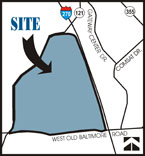 Click thumbnail to see larger picture
Description
This 10.2-acre property is located at the southwest quadrant of the Clarksburg Road (MD 121) and Whelan Lane. The proposed development consists of 87,500 square feet of employment uses and 8,220 square feet of retail uses, including a hotel, 2 bank pad sites, a gas station and a quick mart.
M-NCPPC Staff Contact
Robert Kronenberg
301-495-2187
Robert.Kronenberg@mncppc-mc.org
Applicant
SMTM Cabin Branch East, LLC/SMTM Cabin Branch West, LLC
8130 Boone Boulevard, Suite 100
Vienna, Virginia 22182
Attention: Mr. Barry Gosnell
703-893-6630

Opportunity for Public Participation
The Planning Board will hold a public hearing on the site plan. The hearing date has not been scheduled. The plans are available for review at the M-NCPPC office in Silver Spring. Please call the applicant and/or staff if you would like to meet. Written comments to the Planning Board Chairman, staff, and the applicant are encouraged throughout the plan review process.
Planning Board Review Process & Case Number
Site Plan No. 820060240.
Planning Board Action
Planning Board Action:
The Preliminary Plan for Phase 1 (12003110A) was approved on June 3, 2004.
Notes from M-NCPPC Staff Contact
Date of last page update: June 5, 2007